Donald Trump is the first U.S. president in 40 years to not release his tax returns. The public remains in the dark about his income, what (if any) conflicts of interest he may have, and how much he pays to the Internal Revenue Service. For many politicians, keeping assets secret is the norm.
Only a handful of countries, including Finland, Sweden, Norway and Pakistan, require lawmakers to publicly disclose their taxes. A new global initiative, spearheaded by journalists, is pushing for greater transparency.
The Tax Disclosure Project (TDP), launched earlier this year, is the brainchild of London-based Finance Uncovered, a program that trains media professionals from around the world to investigate tax abuse, corruption and money laundering.
TDP bills itself as "an international network of leading investigative journalists" who are emailing tax disclosure requests to politicians in places like India, Venezuela and Sierra Leone.
During the project's first phase, 7,000 politicians in 20 countries were asked to publish details of their tax records. More will be added in the second round.
The public will be able to track which lawmakers were contacted and how many replied. They can compare which countries are the most or least transparent. Local media can follow up: Why did lawmakers refuse to comply? Do they have something to hide? What about accountability and the voter's right to know?  
"If they do not respond, they will be named and shamed. This campaign will bring back what politicians have lost – public trust," wrote prize-winning investigative reporter Umar Cheema in a March 7 article in The Guardian. "My reports on the taxes of Pakistani MPs [members of Parliament] proved this is an issue that resonates with the public."
TDP credits Cheema, who reports for an English-language daily in Pakistan, for inspiring the initiative. During a Finance Uncovered training two years ago in London, Cheema presented his methodology for the tax disclosure investigation that shook the halls of power in his homeland.
"His presentation was just brilliant. His dogged, meticulous work had tremendous impact. It made me think we could replicate it here on a global scale," said Finance Uncovered co-director Nick Mathiason. "There is, in our view, a clear and substantial public interest in elected representatives fully disclosing their sources of income and their tax payments."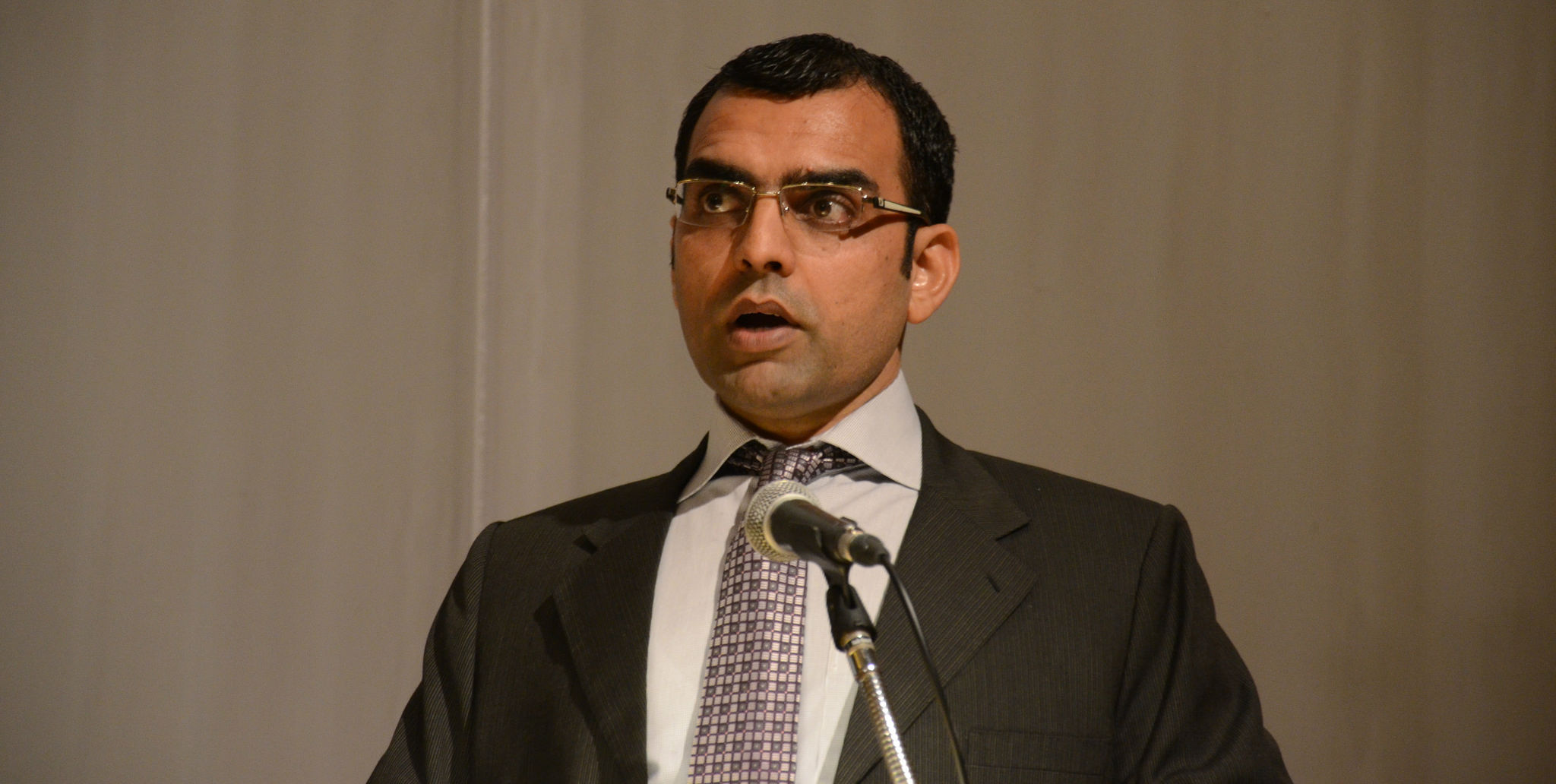 Umar Cheema speaks at an East-West Center event.
That, in a nutshell, is one reason Cheema decided to investigate Pakistani lawmakers five years ago.
He started out by writing letters to all 446 members of Parliament and the country's president, asking them to disclose their tax returns. Only two replied.
It took him months to obtain details through "formal and informal channels," including help from an inside source. The first story was published in December 2012 by the Center for Investigative Reporting in Pakistan, which Cheema founded, and the Center for Peace and Development Initiative.
Cheema reported that around 70 percent of the country's lawmakers, including the president and 34 ministers, had not filed income tax returns. One in five MPs did not have a tax number, which is required for filings. A second exposé followed.
In the wake of the investigation, a newly elected government instituted rules forcing candidates to submit tax returns and charged tax shirkers a penalty for past evasions. Since 2014, two tax directories are being published annually in Pakistan: one that covers members of Parliament and another that covers all taxpayers.
The headline for Cheema's March 7 Guardian story offers a challenge: "We managed tax transparency in Pakistan. Why not everywhere else?"
"Silence isn't an option; struggle is. The media, as surrogate for the public, is duty-bound to hold [lawmakers] accountable," wrote Cheema, a 2013 ICFJ Knight International Journalism Award winner. "The day is not far off when we will witness tax disclosure policies being adopted country after country."
In 2010 — a year before he began his tax evasion investigation — Cheema was kidnapped and brutally tortured for writing stories critical of the government. His tormentors warned he would "face consequences" if he spoke out about the attack — but with his wounds still fresh, he went public. In 2011, he won the Committee to Protect Journalists' International Press Freedom Award.
Journalists are invited to join the Tax Disclosure Project by emailing info@financeuncovered.org. The website has step-by-step instructions on how to search a chosen country and legislator. For those wishing to remain anonymous: "If you have information on a politician's assets or their taxes that you wish to share, you can contact us securely using this platform."
The 20 countries in the first phase include Argentina, Armenia, Bosnia and Herzegovina, Brazil, Chile, Costa Rica, Egypt, Guatemala, Hungary, India, Indonesia, Kenya, Nigeria, Russia, Sierra Leone, South Africa, Venezuela, Uganda, United Kingdom and Ukraine.
Main image CC-licensed by Flickr via Images Money. Image of Umar Cheema CC-licensed by Flickr via East-West Center.
---