For Nigerian journalist and writer Abubakar Ibrahim, journalism isn't just about sharing facts, it's also about inspiring change, which he finds to work best when you put a face with the numbers frequently reported in the news.
When Ibrahim heard about the camps of internally displaced persons (IDP) in northern Nigeria, he didn't just want to report about the numbers; he wanted to tell their story.
"When you see them as humans and experience the life they have experienced somehow, it gives you more context," said Ibrahim. "It gives you more input, makes you feel something and want to do something."
Ibrahim spent time in the IDP camps in Maiduguri, working on the story that would win him the 2018 Michael Elliott Award for Excellence in African Storytelling from the International Center for Journalists (ICFJ), in partnership with ONE and the Elliott family. Named after the late Michael Elliott, an editor, philanthropist and advocate for the power of storytelling, the award recognizes an up-and-coming African journalist with a record of telling important stories.
Ibrahim's story, All That Was Familiar, was published in Granta magazine in May 2017. In it, Ibrahim tells the stories of two women, a Nigerian, Sa'adatu Musa and a Cameroonian, Zahra Mohammed, both displaced by the terror of Boko Haram. Woven through their narratives is a larger story of the more than two million people who fled violence from the militant group in northeastern Nigeria, northern Cameroon and southern Niger.
At a reception in New York in May, Ibrahim accepted the award and then spent a week in the U.S. on an intensive study tour, visiting newsrooms and media organizations for the chance to learn new skills and share knowledge. This is the second year of the award, the first recognizing Kenyan broadcast journalist Mercy Juma.
IJNet spoke to Ibrahim about his work, the award and the power of humanizing a complicated story.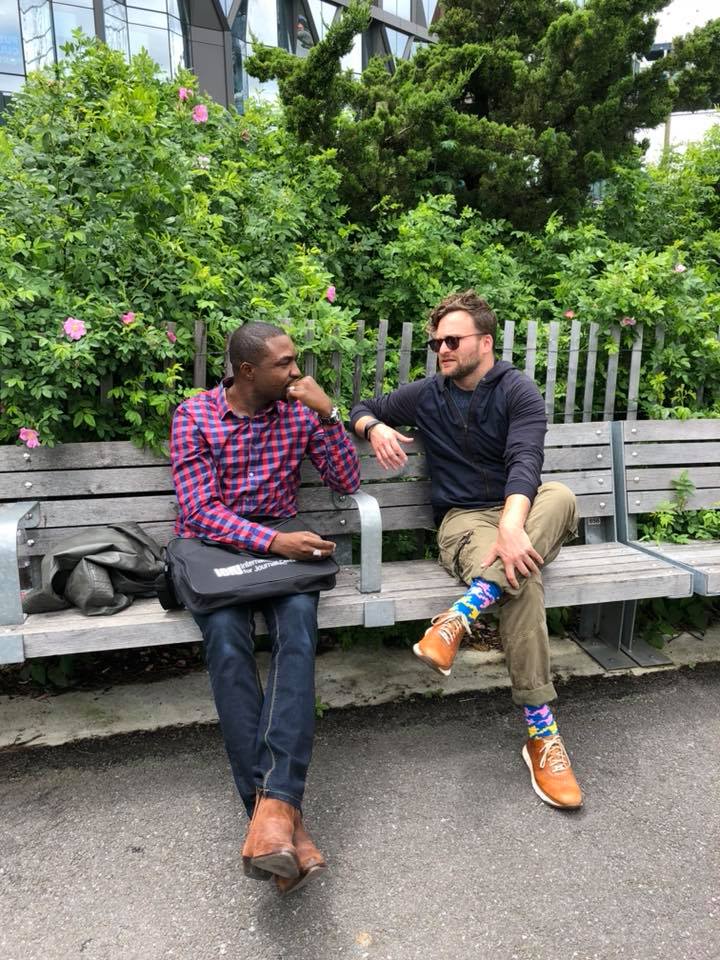 IJNet: Concepts like terrorism or internally displaced people are huge. If someone were interested in taking your advice and humanizing these concepts, where should he/she begin?
Ibrahim: You have to understand what you're trying to do in the first place and its value. You also have to understand that it's not about you, it's about other people. It's about humanity.
You [also] have to understand the risk you have to take. If you don't live in the spaces already, you have to go there. And most times they are very uncomfortable places to be, so you have to ask yourself, "Is this sacrifice that I'm going to make worth it? Can I justify making the sacrifice?"
What specific challenges do you encounter working on a project like All That Was Familiar?
You're not working in ideal situations so you are exposing yourself to a lot of risk. This risk can be from any place. Sometimes the people you are trying to write about may not understand what you're trying to do, so you have to be able to convince them, [saying] "these are the reasons why I think this is going to be helpful or beneficial."
You [also] have to be aware that there are people who try to keep you away from the stories for security reasons — in quotes. They may not you to access these people and talk to them, so they will stand in your way. You have to be innovative and adaptive to find ways of getting to the story.
At the same time you have to be balanced, which is very important, because sometimes we get too enthusiastic about stories and we want to write everything. But we're not social media influencers or bloggers. It's exciting to post stuff on social media and share what's happening, but you have to consider the information you're putting out there and whether it's beneficial and or its detrimental. I think social responsibility is important in journalism, especially in developing countries.
What other advice do you have?
You have to be prepared to take care of yourself, [both] physically and emotionally, because you will be exposed to disturbing images, disturbing stories and people who have suffered a lot. This has a way of getting into your system and entering how you think, so you should be prepared and know when to pull back. 
How is this award going to impact your work going forward? 
Like I mentioned, I came with an idea [but] I have to take time to process everything I've learned and see what is feasible. I'm anxious to start something that's not going to be sustainable, which is one of the things that I learned here. I'll go back home and process all of this. I've already made a lot of fantastic contacts, and we're going to keep talking.
This interview was edited and condensed for clarity. 
Main image is from a reporting trip to the IDP camps in Maiduguri, Nigeria, courtesy of Fati Abubakar. Second image is from the U.S. study tour, courtesy of Abubakar Ibrahim. 
---