For years, Janine Warner has traveled Latin America, teaching as a guest professor at universities, speaking at conferences and meeting entrepreneurial journalists along the way. She wanted to find a way to connect all these people.
So, in October 2015, Warner launched SembraMedia, a new nonprofit organization and online portal that aims to create a community of digital journalists in Latin America and Spain, providing a place where they can share information, strategies and resources.
"The real vision behind this is about helping digital media companies become more sustainable," said Warner, a journalist and consultant from the United States.
Warner's experiences teaching courses as part of the Knight Center for Journalism in the Americas online learning program helped inspire her to action.
In 2013, Warner taught "Development of journalistic projects for the Web," a massive open online course organized by the Knight Center, to more than 5,000 participants. In March 2015, she and journalist James Breiner offered the Spanish-language Big Online Course (BOC) "Entrepreneurial journalism: How to monetize and promote projects for the Web."
As part of the courses, students discuss coursework in online forums. Warner said she watched how they supported each other, answered questions and made connections.
"Much of what I'm trying to do at SembraMedia is really to extend what we started in that course and to kind of formalize some things that I've been doing for years," Warner said.
Warner realized that different groups and academics were keeping their own lists of digital media outlets, but these, while helpful, could be quickly outdated.
"The real epiphany I had that led me to create SembraMedia was that if you wanted to do this in a way that had long-term value, it had to be a living, breathing digital site itself," Warner said. "A living website with a team of people that fed it, developed it, kept it updated and were involved in creating a community there."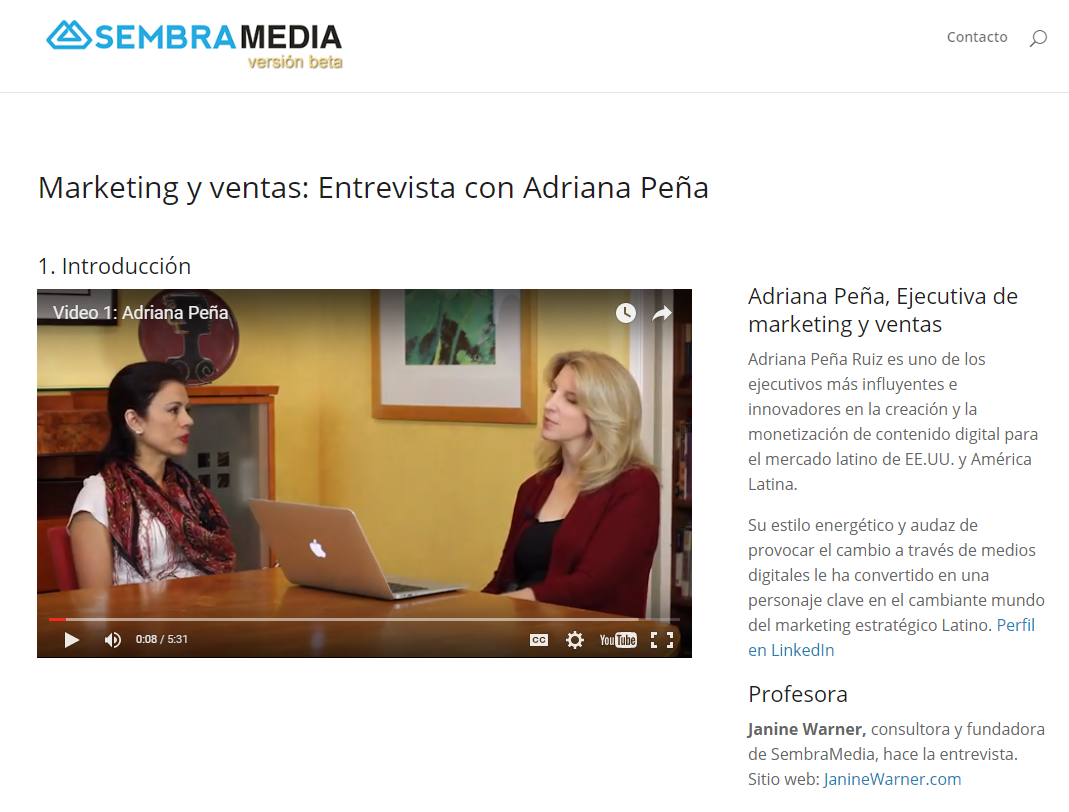 The site features a directory of Spanish-language digital media outlets; a calendar of events; a collection of classes and video interviews; resources and tools; case studies; and, potentially, a forum for collaboration.
A large part of the project, Warner said, is helping entrepreneurial journalists with the business side of things.
Warner said that, in her experience, journalists make great entrepreneurs and can come up with creative ideas, see problems that need solving, do competitive analysis, even build audiences, but they struggle with business skills not historically taught in journalism school.
"At the heart of SembraMedia is this realization that there are a lot of smart, talented entrepreneurs out there that are doing a lot of things right in terms of producing great quality content, really serving a need in their communities, but really struggling with the business side," Warner said.
Warner sees the SembraMedia site as serving three different audiences: entrepreneurial journalists, supporters and researchers.
"I have a long-term vision about trying to support digital media entrepreneurs by creating a community that not only provides best practices and mutual support, but potentially could do things like collective organizing," Warner said of SembraMedia.
For now, the site is in a beta phase as the SembraMedia team, which includes directors, editors, coordinators and ambassadors from 12 different countries and regions, works to research digital media sites and build the media directory. The team members also serve as contacts for the organization in their respective countries, Warner said.
The directory can be filtered by several categories: country, level of coverage, type of content, year founded, format, traffic, number of members and subscribers, team size, criteria related to business model and more.
Anyone can submit a digital media outlet not already in the directory. The suggestion will be sent to the ambassador for that country who will then evaluate whether it can be added.
To be added, the organization must be a digital media, produce most of its own content, create content that serves the public interest, be financially independent and be transparent about funding and those involved in the project.
This year, Warner plans to build the directory and add more courses, resources and training. She has also started a LinkedIn group that will complement the work done at SembraMedia. Club de Profesores is a group of professors who teach digital and entrepreneurial journalism in Spanish.
With SembraMedia, Warner said she wants "to help those people that had the great creative drive to start a site, that had the little bit of technology experience that you needed to get a site up and running, to take it to the next level and to be able to create something with long-term impact and sustainability, and not kill themselves doing it."
SembraMedia is funded by the Cook Family Foundation, the National Endowment for Democracy, the Institute for Nonprofit News and personal donations.
This post originally appeared on the Knight Center for Journalism in the Americas' blog and is republished on IJNet with permission.
Main image of Janine Warner CC-licensed by Flickr via Knight Center for Journalism in the Americas, University of Texas at Austin. Secondary image is a screenshot from SembraMedia.org.