Each month, IJNet features an international journalist who exemplifies the profession and has used the site to further his or her career. If you would like to be featured, email a short bio and a paragraph about how you have used IJNet here.
Nikita Mandhani has long held a thirst for adventure. As a child growing up in India, she originally hoped to be a pilot, flying around the globe.
"My dad wasn't okay with that," Mandhani said with a laugh. She ultimately became a software engineer for a major multinational organization in India. But the passion wasn't there.
To keep her creative juices flowing, she started a blog, focused largely on researching different international topics and offering her own analysis. After two years and continuously growing web traffic, Mandhani realized journalism was what she wanted to do for the rest of her life.
"I started doing a lot of research and read about the Medill School of Journalism [at Northwestern University]," Mandhani explained. "I came to the U.S. in 2015. And Medill changed my life."
During a one-year master's program Mandhani describes as "very rigorous," she learned the ins and outs of video reporting. And while she didn't do so as a pilot, she received grants to travel and report from California, Philadelphia, Michigan, Puerto Rico and Germany. Her work focused largely on the experiences of immigrants and refugees in the United States.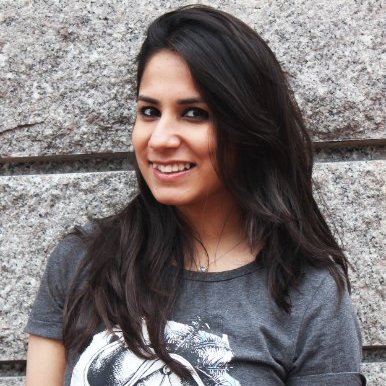 Now, she works as a video editor and producer with The Washington Post, producing content for Snapchat, the Lily (a women-focused publication of the Post) and Apple News. Her freelance portfolio includes names like NBC, Buzzfeed India and Vox.
IJNet sat down with Mandhani to discuss her transition to journalism and her future in the field.
IJNet: You talked about how you like to write a lot. What made you focus on video instead of written journalism?
Mandhani: I wanted to try something new. I knew I had come all the way to this country, and I was investing so much in my education. I just realized what a video can achieve in seven minutes — I felt it could tell so much more. I wanted to be able to tell stories that way. I started focusing on video, but never left writing. I've done freelance work because I want to also continue to write.
Tell us about how you've gotten these freelance opportunities.
When I was in India, when I left my job [before graduate school], I started freelancing but I didn't really know what reporting was, I just knew research and writing. I started pitching then, and doing a lot of those listicles for growing publications and writing travel pieces. And then when I was here, it was a very slow process. I got a lot of rejections. I would pitch and people weren't interested. I wrote for a ton of publications for free, just to get my name out there. But then for the 2017 Women's March on Washington, I did a story for an Indian publication, interviewing Indian-Americans at the march. I started pitching more and tried to understand what my niche was. So then I did a story with NBC Asia about Muslim-Indians in America. Once that happened, I never stopped pitching. I try and really think about my strengths and think about what I can do better than other people with my experience.
What does the future hold for you?
I'm going back to India in January; I've booked my ticket. It's been a complicated and tough decision, knowing I have a job here. But one of the biggest reasons I wanted to become a journalist was because I was reading a lot of international publications and I always felt India was not portrayed in the right light; a lot of countries in South Asia and Southeast Asia aren't. I used to get annoyed. I felt a lot of storytelling from those regions didn't have context. That's a big reason why I wanted to cover news in my own country.
How has IJNet helped your career?
I check IJNet almost every day. There are a ton of opportunities there that I don't see anywhere else, especially conferences and workshops. I love how everything is all in one space. I found the Poynter Minority Writer's Workshop there. I also found the CNN Diversity Fellowship, and from that I got to attend the 2017 Online News Association Conference. I always want to learn as much as I can. And at IJNet, I feel welcome in the community.
What advice do you have for other journalists?
It's so important to be curious. Question each and every thing. My curiosity has helped me the most and helps me come up with story ideas. And also: never stop. You have to keep going. Leverage your strengths. It's difficult, so difficult. I can say this because I worked in another field. Life as a computer engineer was more stable, and it's easier to find a job. Being a journalist is tough, but it's so much fun.
This interview has been condensed and edited for clarity.
Main image courtesy Nikita Mandhani.