The use, and adoption, of social media continues to rapidly evolve in the Middle East and North Africa (MENA). A recent white paper from Damian Radcliffe and Amanda Lam (the authors of this post) at the University of Oregon provides an up-to-date analysis of the latest research, industry announcements and news related to the MENA region's youth bulge and digital growth.   
Here are five key developments:
1. Social networks are now the most popular news source for Arab youth
The 2017 Arab Youth Survey highlighted how social media is reshaping the news habits of younger audiences. Their research found 35 percent of respondents got their news on Facebook each day, ahead of online sources (31 percent), TV news channels and newspapers (9 percent).
Young men and women in the Arab world are also more likely to share news content on Facebook than in past years. Among those ages 18 to 24, 64 percent said they'd shared stories on the social network, up from 41 percent in 2015, as social media continues to become an increasingly influential source for discovering — and sharing — the news.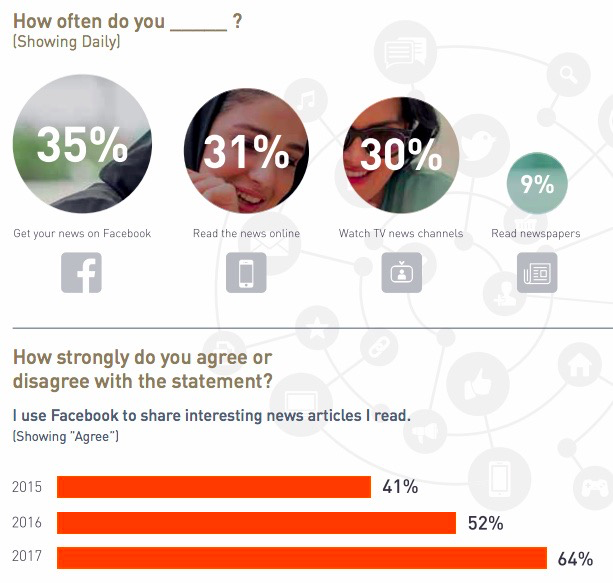 2. Video is huge
The 16-nation Arab Youth Survey also reported that YouTube is viewed daily by half of young Arabs (50 percent).
Elsewhere, the Dubai Press Club's annual Arab Media Outlook noted that Saudi Arabia is YouTube's largest market globally in per-capita consumption, and that video is the most popular online activity for young people. Those between the ages 15 to 24 in the MENA region spend 72 minutes per day watching videos online, compared to 16 minutes per day for those over age 35.
3. Publishers, apps and users are continuing to invest in video
The fastest-growing video segment is short-form, amateur, digital content curated by Arab youth, according to the Dubai Press Club.
In Saudi Arabia, CNN reported that women are also vlogging on YouTube to express their views. Consumption of female-related content in the Kingdom increased by 75 percent in the past year.
Given this, it's perhaps not surprising that apps like the mobile-first video platform Newstag launched a video news service for the MENA region in 2017. The mobile app allows users to create and watch personalized video news. Currently, 60 percent of its existing users are based in the MENA region.

4. Social influencers contribute to brands' success
A survey of 100 in-house marketing experts and brand managers in the United Arab Emirates (UAE) found that around 43 percent of marketers spend up to US$10,000 per social media influencer campaign. Half of those polled currently work with social media influencers in the region;94 percent believe social media influencer marketing plays a major role in the success of their brands.
In 2017, Huda Kattan, an Iraqi-American makeup artist and Dubai-based businesswoman, was  named the world's highest-paid social influencer in the first-ever Instagram Rich List. She boasts 20.5 million followers and charges US$18,000 per post.
Despite the popularity of influencer marketing, 74 percent of Middle Eastern women say traditional media remains their main source of information on products or brands.
However, younger women have a different perspective. Ipsos MENA, found that 47 percent of 18- to 24-year-old women report that online platforms are their main source of information on products or brands. We expect to see the power of online platforms — and the social influencers on them — will only grow.
5. Trust in social media remains lower than trust in traditional media
Although the influence – and usage – of social media is growing, traditional media isn't dead yet. Notably, in an era of "fake news," data from Northwestern University in Qatar (NU-Q) revealed that trust in mass media across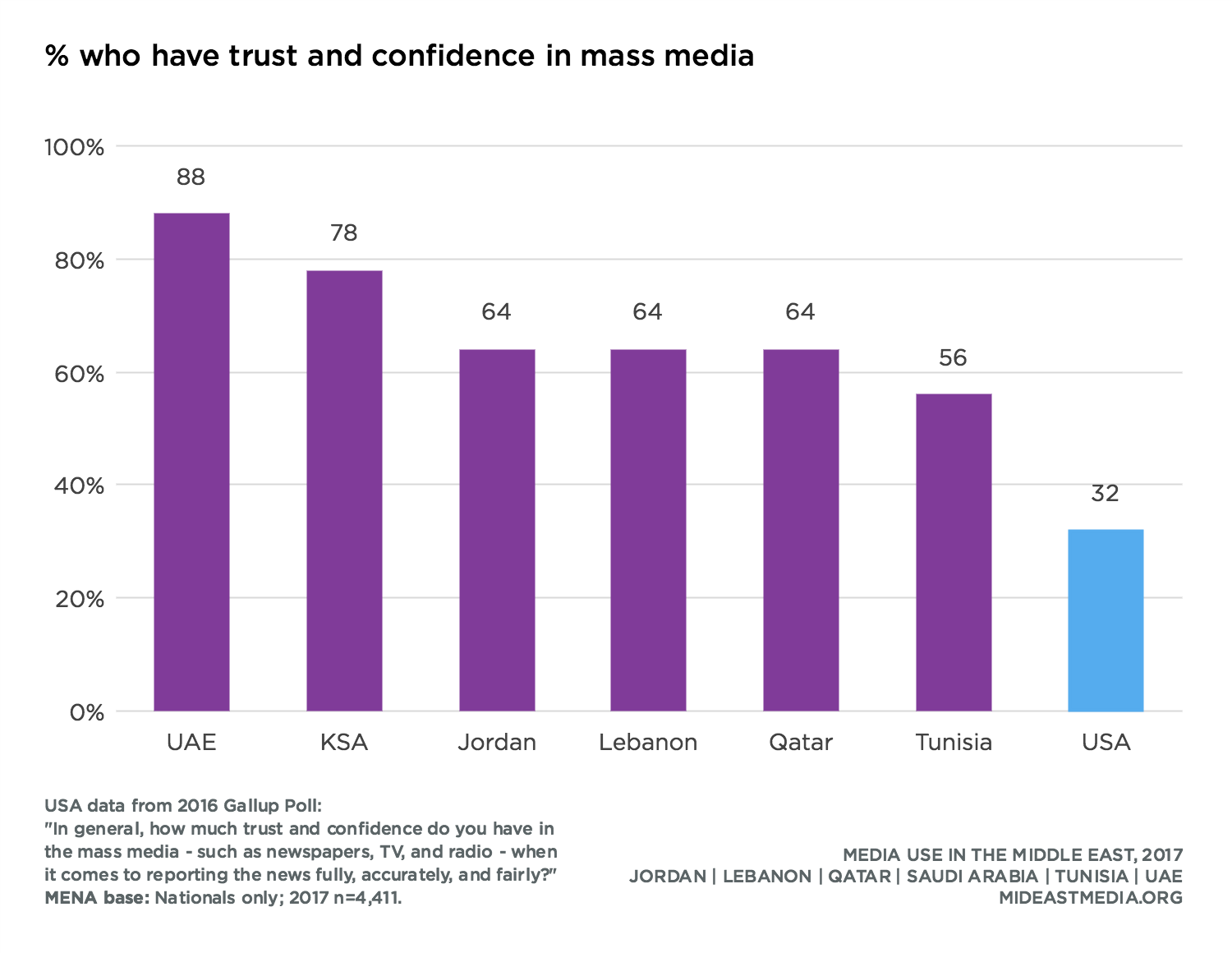 the MENA region remains high.
"In a 2016 Gallup poll, just 32 percent of Americans said they trust the mass media compared with two-thirds or more in Jordan, Lebanon, Qatar, Saudi Arabia and the UAE, and 58 percent in Tunisia," the authors wrote.
In contrast, levels of trust decrease when looking at social media as a news source, despite its popularity. Less than half (47 percent) say they trust the news that they see on social media, while one-third (32 percent) say they do not trust this news at all.
Looking ahead, it will be interesting to see if we see shifts in these trust levels, especially as the usage of social networks for news, information and entertainment continues to grow.
For news organizations and brands, we can confidently expect to see a continued emphasis on the importance of video, social influencers and distribution on social networks in the coming year, given the influence these areas already have on many audiences in the MENA region.
Damian Radcliffe is the Carolyn S. Chambers Professor in Journalism at the University of Oregon, a Fellow at the Tow Center for Digital Journalism at Columbia University and an Honorary Research Fellow at Cardiff University.
Amanda Lam is a senior studying public relations and journalism at the University of Oregon; graduating in spring 2018. She is the Managing Engagement Director at the award-winning Daily Emerald newspaper and the Assistant Firm Director for Allen Hall Public Relations.
Their new white paper Social Media in the Middle East: The Story of 2017 is available for download from the University of Oregon Scholars' Bank and Damian's personal website. It's also available to view, download and embed on Scribd, SlideShare and Academia.edu.
First image via Arab Youth Survey, 2017. Second image via Content + Technology. Third image via Media Use in the Middle East, 2017. Main image CC-licensed by Pixabay via geralt.