When The New York Times revealed its multimedia "Snow Fall" feature in December 2012, the web caught a glimpse of the future of online storytelling. Snow Fall combined text, photos, videos and interactive graphics in an unprecedented way to tell the story of skiers and snowboarders trapped beneath an avalanche.
But it took a lot of manpower and technical wizardry to complete (an 11-person graphics and design team, a photographer, three video folks and a researcher), leading some to declare that the Snow Fall model couldn't feasibly, sustainably become the standard. "Stuff like this will get better and better and slightly more frequent, one hopes," wrote the Atlantic's Derek Thompson. "But it won't become, generally speaking, frequent."
Publishers itching to do the same in 2012 needed to at least know HTML, CSS and complex design suites like PhotoShop or InDesign to create compelling visual stories. But since Snow Fall disrupted online journalism, a number of new tools and apps have emerged to help publishers create these interactives without the need for much tech savvy at all. Now news outlets looking to easily infuse multimedia into their storytelling can combine text, video and photos with just a few clicks, and often at low (or no) cost.
IJNet recently set out to explore three such visual storytelling apps: Shorthand, Storehouse and Steller. These apps are being used by journalists, news organizations and freelancers around the world. Here's our summary:
Shorthand, currently in private beta, is a web-based app that allows users to arrange text, photos and videos to create multimedia, Snow Fall-esque stories, with no coding knowledge necessary.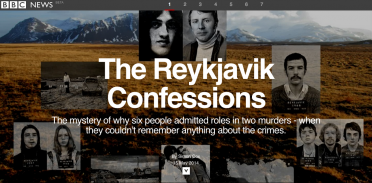 The Brisbane-based startup was founded in March 2013 and first tested the tool with the Guardian Australia for England v Australia, a long-form interactive story that traces the history of the two countries' sporting rivalry. Since then, Shorthand has worked with leading news outlets like BBC, The Guardian and ESPN.
Users "drag-and-drop" sections into place, creating magazine-style layouts with full-screen images. Stories are fully responsive on a range of devices. The system uses scroll-based features, like scrollmotion (for mobile devices) and chapter navigation, so that audiences have complete control of how they experience the story.
(Advanced users do have the option to integrate Google Analytics, custom fonts, CSS and customized integration.)
BBC News has used Shorthand to build stories such as "Arms Wide Open," a visual exploration of Rio de Janeiro's Christ the Redeemer statue, and "The Reykjavik Confessions," a seven-chapter Icelandic murder mystery. The Center for Public Integrity, the U.S. nonprofit investigative journalism organization, used Shorthand for its "Big Oil, Bad Air" story on fracking in the Eagle Ford Shale of South Texas.
Shorthand will come out of private beta in the coming weeks. It is also working on a product for individuals.
Storehouse, a free app available on iPad and iPhone, allows users to combine text, video and photos to create "elegant" visual stories. It was launched (for tablet) early this year by Apple's former user experience evangelist and UI designer Mark Kawano.
On Storehouse, photos and videos for stories can be captured directly from within the app, or uploaded from the camera roll, Dropbox, Instagram or Flickr. Once published, stories can be shared on the web in a layout that works across any device.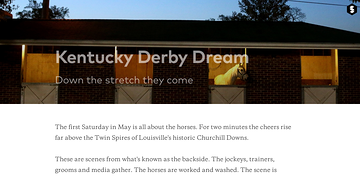 The app's community of creators spans 217 countries and territories. Though most users are individuals, it is also being used by brands like National Geographic, GQ Magazine (Germany) and RTE, Ireland's national TV and radio broadcaster.
RTE cameraman/editor Micheál Mac Suibhne recently used Storehouse to narrate a trip to South Sudan to cover the repercussions of the ongoing civil war there, in a piece called "Foreign Assignment."
And the Courier Journal of Louisville, Kentucky, used Storehouse to tell a visually-rich, photographic story on the Kentucky Derby, called "Kentucky Derby Dream," as well as other stories.
Photo editors, photographers and producers from traditional outlets are also using Storehouse to share their own work, like David Griffin, visual editor at Washington Post; James Clasper, a senior producer with the Associated Press; and Olivier Laurent, the editor for TIME LightBox.
Storehouse has plans to make its creation tool available on the web in early 2015.
Steller, a free mobile storytelling app, lets users create photo and video stories with an emphasis on design. Users can publish groups of images in a flipbook format with swipeable pages that can include text, captions and video. The app, developed by Mombo Labs, is currently available only on iPhone.
Much like Storehouse, Steller allows users to combine photos, videos and text to create an interactive experience. Steller is designed to appeal to a wide audience and to facilitate on-the-go publishing.
"That immediacy holds very interesting potential for journalists on the scene, on the ground and in the moment," Steller co-founder Jay Wilder told IJNet.
To date, the Steller community is composed of topically-interested social users, everyday users sharing experiences, as well as some early-adopter journalists using Steller to convey news, human interest and cultural stories. In July, cameraman Wojciech Treszczynski reported from the scene of the Malaysia Airlines crash in Donetsk, Ukraine. In addition to his professional reporting for CNN, he converted his iPhone camera footage into a Steller story called MH17.
The app has also been used by journalists including RTE's Glen Mulcahy, the BBC's Nick Garnett and freelance photojournalist John Javellana.
Jessica Weiss is a freelance journalist based in Bogotá.
Main image: CC-licensed on Flickr via SamsungTomorrow. Secondary images: Screenshots of Shorthand, Storehouse and Steller apps.