1989: When the Berlin Wall fell down I was only nine. Yet, I can still remember watching my first newscast while the Cold War was coming to an end.
2010: Steve Jobs announced the iPad in San Francisco — a device that fueled the digital video revolution.
When we started working on Watchup we had one goal in mind: to bring all the power of video journalism to emerging screens with a personalized newscast experience. Granted, that mainly meant the iPad to us. But today, things have changed. Certain Android devices have shown how compelling a video experience can be on mobile. And when unanimous rumors started flowing about a bigger iPhone 6, we realized the time had come for Watchup to be redesigned for the mobile video age. Today, we are announcing that Watchup is finally debuting on the iPhone.
But how did we go about that?
1. Design thinking. Users first.
First of all, we talked to our users. A lot. They were asking for a way to get their personalized newscast preferences synced over the cloud. We did it. With one account you can now unlock the whole Watchup experience on iPad, iPhone, Android tablets and soon phones, and find your favorite channels and personalization preferences intact.
2. Your newscast is in your hand(s)
Merely converting the interface from tablet to phone would have been easy. We could have done just that by converting our horizontal stream from tablet to phone. Instead, we went for re-thinking the news watching experience for mobile from the ground up. The first way people interact with Watchup is by discovering inspiring news content. In order to do that, users scroll, and how do they scroll through content on mobile? In portrait mode, with one hand and a thumb. Because we believe that more is less, unlike its tablet version, Watchup for mobile comes with a portrait-mode only timeline view.
3. Always watch
Now, how do people watch videos? They do in landscape mode. We found out that's true for tablets and mobile phones. That way if you rotate your device you will always, always, see a video playing in full screen. Because that's what ultimately users of a video app want — watching videos.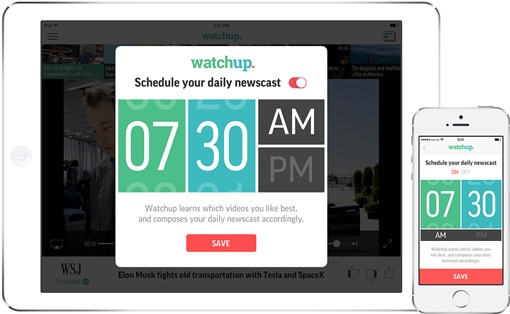 4. Key features preserved
Ultimately, we preserved the key value of the app. You open it and your newscast just plays! And it plays continuously. This is true on tablet as it is on phone. Plus, we kept the ability to recreate your news ritual intact. Scheduling your daily newscast is a possibility on every device. But that is left to every device as you might want to receive your newscast on your phone in the morning ahead of your commute and in the evening on your tablet.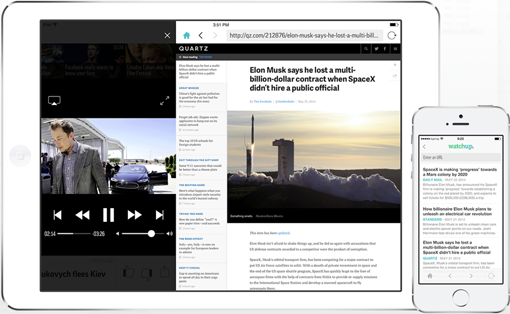 5. Watch a video, read an article
One of the most successful features on iPad was our patent-pending watch and read interface. We preserved that on the phone too, but the print articles now live on a separate screen you can easily access by a simple swipe. That gives you the chance to keep listening to your newscast. The screen was just not big enough to let you watch at the same time.
This is how we redesigned Watchup for the mobile video age. We hope it will help you stay informed across all your devices.
Watchup CEO and cofounder Adriano Farano was a 2010-2011 Knight International Fellow at Stanford University. Follow Adriano on Twitter @farano and follow Watchup @watchup.
This post first appeared on IJNet partner PBS Idea Lab, and is published here with permission.
Idea Lab is a group blog by innovative thinkers and entrepreneurs who are reinventing media in the digital age. Initially the blog was set up exclusively for authors who won a grant in the Knight News Challenge, but now includes other Knight grantees along with other entrepreneurs, project leaders and thinkers at the Northwestern University Knight Lab, Reese News Lab, John S. Knight Journalism Fellowships at Stanford and the MIT Center for Civic Media. Learn more about Twitter or on Facebook.
Image CC-licensed on Flickr via David Erickson.