Argentina's newest magazine is for members only. MONO is the brainchild of RedAcción, the youngest newsroom in the country, which delivers its paper magazine monthly to its members.
RedAcción — which can be read in Spanish as newsroom or action network — is a 90 percent digital enterprise, but MONO is an additional, members-only benefit.
RedAcción director Chani Guyot worked for two decades at La Nación, one of Argentina's largest newspapers. In 2017, he left his role as editor-in-chief and started RedAcción, which he views as an antidote to information overload. The publication gives priority to few, well-reported stories with a local, solutions-oriented focus.
For example, a story about equine-assisted therapy comes with a link to a petition to create a national law that regulates this form of therapy.
One of the co-founders is Juan Carr, a social entrepreneur and seven-time Nobel Prize nominee who is behind the Solidarity Network, a movement with hundreds of volunteers that respond to emergencies and social problems.
"We have a vocational aspect that has to do with how we participate in building communities that can create an impact," says Guyot.
For example, RedAcción is collaborating with two organizations in a project called "Level Up the Field," which is dedicated to creating Wikipedia pages for Argentina's female soccer players. When the project was launched earlier this year, there were only 33 profiles of female players on Wikipedia, and over 5,000 of male players. The goal of the project is to increase the visibility of the team, especially after the Argentinian women's team — who has been outspoken about inequalities between men and women's sports — qualified for the 2019 Women's FIFA World Cup in France.
"Journalism in Argentina has a low nutritional value," says Guyot, referring to the lack of coverage of social issues in many of the privately owned, mainstream publications.
Argentina suffers from a polarized media context, where traditional private newspapers have better financial standing but overall less coverage of social issues, while new media are struggling to make ends meet while putting issues such as poverty and women's rights on the agenda.'=
Design-focused magazine
MONO — the print magazine — is a showcase of some of RedAcción's hand-picked coverage, in an elegant and innovative format. Inspired by France's le1 and Spain's El Dobladillo, MONO is a foldable magazine which publishes five original stories per edition. Folded, it looks like a regular magazine. Unfolded, it grows into a tabloid first and then a broadsheet.
The design varies according to the content. For example, the broadsheet size of the May edition, ahead of the 2018 World Cup in Russia, featured a soccer pitch for a special long-form article on Lionel Messi. The poster-size design of the same edition included an infographic illustrating the goals Messi scored before the World Cup, with a dot to show the exact position of each of them on the pitch.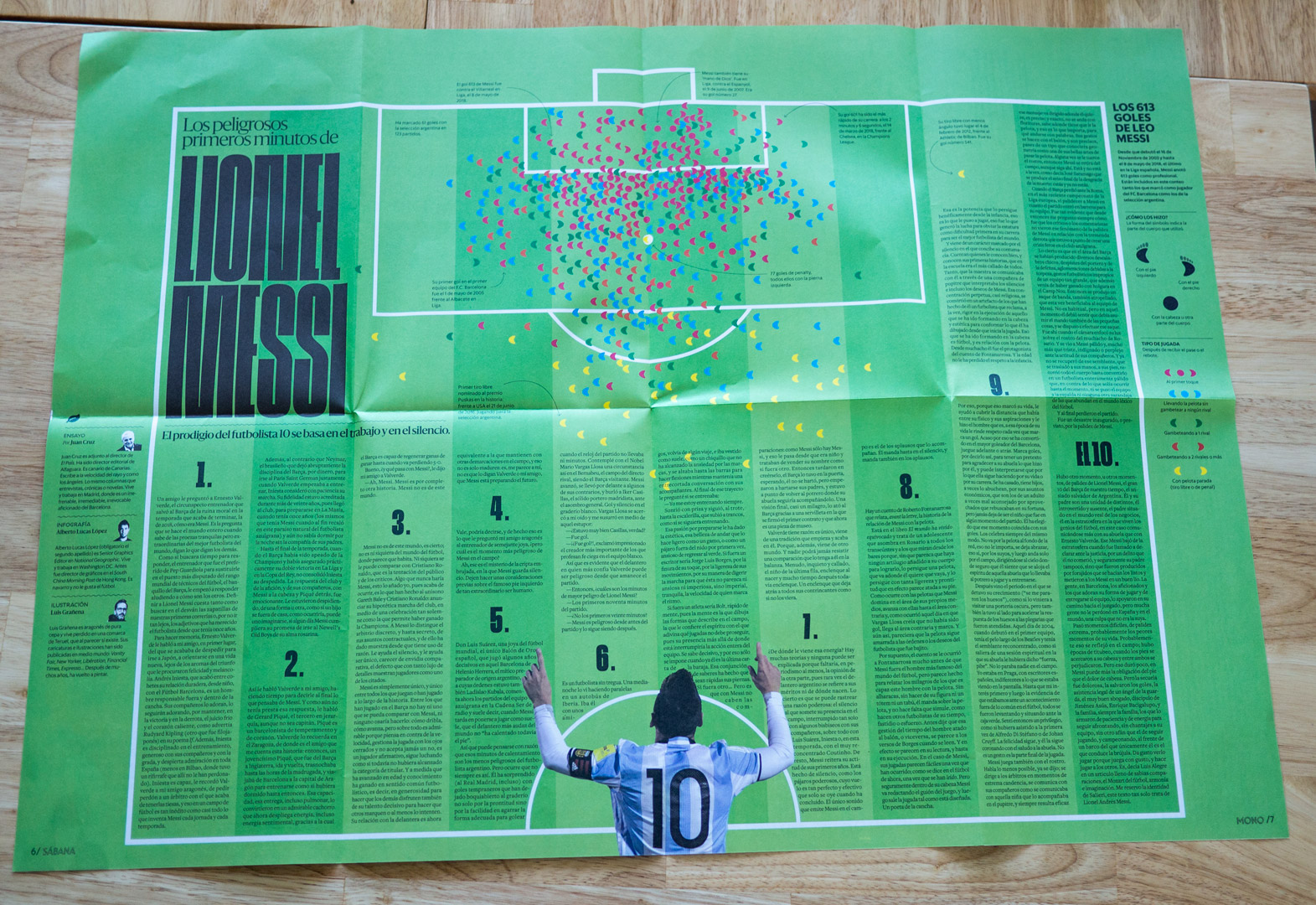 Other editions have included included comic-style reports on the tabloid pages, including the personal story of Lucía Wei He, one of the paper's reporters, whose parents migrated to Argentina from China.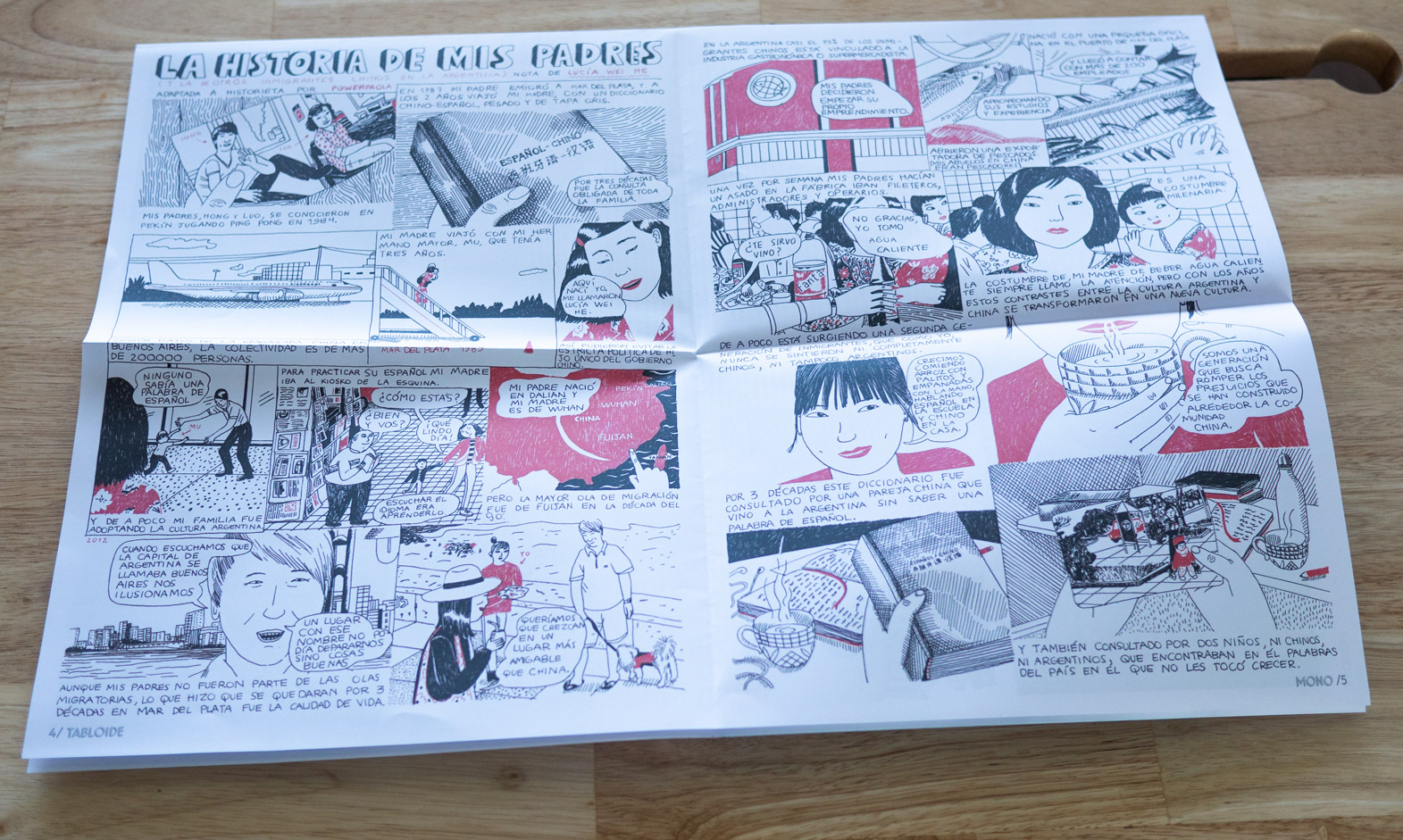 "MONO gives you back the pleasure of sitting down in a sofa and reading good journalism through a playful and beautiful artifact," says Guyot. "It is a sensitive experience, not exclusively an intellectual one."
Guyot's career always straddled design and editorial lines. When he first joined La Nación in the 1990s, he did so as a designer for the Sunday page. He then moved to different positions at the publication before becoming editor-in-chief.
"MONO is the product that expresses me best," says Guyot about the magazine's balance between curated content and careful design.
The magazine is designed by Errea, a Spanish company that curated the rebranding of several media, including the U.K's The Scotsman and Finland's Turun Sanomat.
Finding a sustainable model
Launched in April 2018, RedAcción was made possible thanks to US$1.5 million in private donations. The funding will cover operations for the 15-person team for the first three years, but the newsroom is exploring a more sustainable revenue model to ensure funding in the future.
Since Guyot says they will not accept any advertising funds, they have decided to use a membership model, similar to the one adopted by De Correspondent, the Dutch news website that is about to launch in the U.S.
For ARS150 (US$4) per month, members receive benefits that regular readers do not, including MONO magazine and participation in events that allow them to talk directly to the publication's staff and reporters. These paying members make it possible for others to take advantage of the online content at no cost. The young audience — between 24 and 40 years old — is very engaged, and RedAcción is trying to make the most of it.
"We are concentrating on understanding what our readers and members think," says Guyot, which is a benefit of the members-only events.
It is still too early to tell whether RedAcción will flourish or not, but for Guyot, this is the dream of a lifetime. "It is an opportunity to do what we believe in," he says, "then we have to see whether we can put those ideas into action and whether the market validates it."
---
 This post was updated at 1:10 p.m. on Dec. 18, 2018.
All images courtesy of RedAcción.
Irene Caselli is a multimedia freelance journalist with 14 years of experience in print and broadcasting. She reported out of Latin America for a past decade and she is currently living in Italy. She regularly reports for international media, such as BBC News, The Washington Post, The New York Times, The Guardian and Monocle. She is a contributing editor to Index on Censorship.