There are a ton of tools to help busy journalists manage Twitter.
We've written up time-saving social media tools and those like SocialBro that offer a granular view of your followers and impact.
What sets Commun.it apart? It helps pinpoint your main supporters, engage them and thank them with just a few clicks. The Tel-Aviv startup, whose clients already include tech titans Cisco, HP and Dell, is poised for a public launch.
"Bloggers and journalists often miss out on influencers sharing their articles. After publishing, it's important for journalists to get feedback. But too often it boils down to counting retweets and shares," Mike Polischuk, Commun.it co-founder told IJNet. "The other mistake they often make is taking people for granted. Most writers have at least several loyal readers/fans that often retweet/share their content, but it's easy to lose track of them."
IJNet tried out the free version of the app, which connects to your Twitter account and breaks your followers into an easy-to-parse three-column view.
A quick glance at the "prioritized feed" panel, which categorizes your relationships and followers, is all you need to get going. There are no graphs, no metrics no vanity numbers - just a breakdown of who is reacting (or not) to your tweets.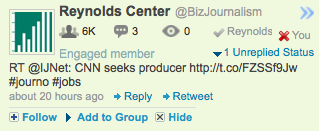 The "relationships" are broken down into influencers (judged by followers/following ratio and your engagement history), supporters (people who retweet your content) and engaged members, who interact with you most often (mentions, retweets, DMs, favorites). With each of these categories, you can see who is active, who you haven't replied to yet and also send out a tweet to thank them, using either Commun.it's pre-formatted shout-out or your own.
Commun.it has just launched a smart partnership with Buffer, so you can either chirp out your thanks right away or schedule it for your peak traffic time. It's a welcome time saver for busy journalists who often forget to compile those FFs or thank for RTs.)
If you don't have time for the web-based version, the app emails you a weekly breakdown of top supporters plus a birds-eye summary of basic analytics. (The full analytics (mentions, RTs etc.) are only open to premium subscribers, but if you really want to follow those you can get them for free with a desktop client like Hootsuite anyway.)
The "discover new leads" feature is a good way to track topics that interest you and easier than adding a stream to your desktop client or doing manual searches. Based on your tweets, Commun.it suggests some keywords to monitor or you can fill them in (company name, your town, whatever) and then returns those results in a column.
The app is currently only available in English, but Polischuk says given Commun.it's global customer base--20 percent of users are Spanish speakers and a substantial number of users are in Europe and Asia--rolling out in other languages is a priority.