Pakistan's media landscape is new to the use of technology in the newsroom. One of the biggest challenges is reconciling the different cultures that collide when technology, journalism and data cross paths. 
The tech community in Pakistan is vibrant but has largely been associated with commerce. Consequently the developer community has limited experience interacting with and understanding the needs of media and civic organizations.
Pakistani media organizations themselves have had a long history of thinking of technology as a necessary but tangential tool that is essential for publishing. Online journalism is new and fledgling, albeit a little sidelined and secondary in most major media organizations. Only recently have Dawn, The Express Tribune and other major media organizations started to beef up their online platforms as a major dissemination source with others taking notice and expanding slowly. 
Working with data in Pakistan
Added to this media and technology landscape are the challenges of working with data in Pakistan. To start with, the state usually collects and controls data related to civic and social enterprises. Despite recent policy changes that give the public more access to this data, the format and type of data remains problematic in terms of how quickly and effectively it can be used for modeling and manipulation.
Last May, Pakistan's first data bootcamp took place at the Centre for Excellence in Journalism in Karachi. Almost 60 people attended, including a mix of journalists, developers, designers and civic activists from all over Pakistan. 
On the final day of the three-day d|Bootcamp, a panel discussion brought together top leaders working with data in Pakistan. Moderated by Khurram Husain, assistant editor at Dawn, the discussion focused on the challenges that panelists face working with and around data in Pakistan.
Saman Naz of Alif Ailaan, a data-driven advocacy campaign for education, stated that the quality of data related to education is a problem. Asif Saeed Memon, associate fellow at Sustainable Development Policy Institute (SDPI) which runs Pakistan's only data portal data.org.pk, pointed out that this leads to a distorted picture of the issue and poor policy decisions. Apart from standardization and accuracy, timeliness and lack of data are also roadblocks. Pakistan has not had a census since 1998.
Fahim Zaman, former administrator in Karachi who now runs the data project for Dawn media group, pointed out that though it is inconsistent, government data is available. However, getting that data is another problem not only because of complicated bureaucratic structures and processes but also fear of accountability. 
Burhan Rasool, director of software engineering for Punjab Information Technology Board (PITB), outlined challenges within the government with data collection and management. For him the first step for data-based policy making must be setting up systems for data collection and vetting in the government. 
d|Bootcamp projects
Despite limited access to standardized data in Pakistan, the d|Bootcamp was a positive first step in not only starting a conversation about the importance of open data and open government in Pakistan, but also creating linkages between technologists and journalists. 
This multidisciplinary aspect was definitely the bootcamp's highlight. Not only did participants from different backgrounds come together to learn and collaborate but they also worked on creating diverse and fascinating data-focused civic engagement projects, all in the span of three days.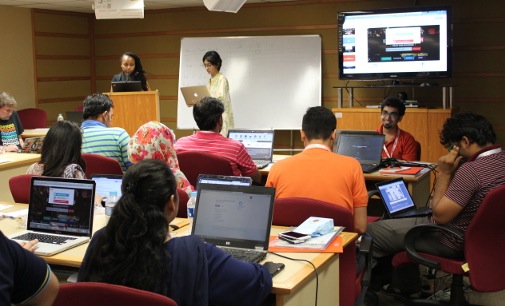 Out of the 58 participants, 49 pitched project ideas. Participants selected 10 of these ideas and multidisciplinary teams were formed to work on prototypes, with the help of trainers and mentors. Out of the 10, the top five qualified for an aftercare program that is enabling them to develop web and mobile apps and tools based on their prototypes.
The winning projects cover a range of topics: violence against women, price comparison of everyday commodities, crime mapping and status of minorities in Pakistan.
With these five winning projects we hope to kickstart the convergence of data, civic media and technology in Pakistan. The projects will partner with leading media and civic organizations to give citizens access to helpful information. We hope they also will pave the way for other such events, encourage media professionals to collaborate with technologists and explore better ways of not only telling stories but also reimagining how information is consumed and used in Pakistan.
Rahma Muhammad Mian is a media development consultant who is creating a citizen-engagement lab in Pakistan to support data-driven media projects. Learn more about her work as an ICFJ Knight Fellow here. 
Images taken from the d|Bootcamp site