Born and raised in Nigeria, Michelle Agoh had never considered herself a strong writer, but she had planned to be a broadcast journalist, and didn't think she needed to be a writer to make that happen.  
"I'm a talker, it's what I'm comfortable with," said Agoh, "Writing seemed impossible."
She completed her undergraduate degree in Business Information Systems from The University of Cape Coast, and began her career as a radio presenter in 2015, which she thought capitalized on her strength..
However, after attending a mobile journalism course from The Knight Center for Journalism at the University of Texas, Austin in 2018, her mentor asked her if she was going to publish her work. Agoh hesitated since she'd never considered herself a writer. In the end, she decided to publish, and that decision has moved her career forward. 
Today she's conquered writing and broadcasting, publishing articles, as well as a mini documentary that she shot on her phone. 
Agoh works for Lagos Talks, as a radio presenter on the show, The Live Drive, covering topics such as current affairs, news, and politics daily. 
"My story on less convictions of reported rape cases in Nigeria had a huge impact on me because that was my first article," Agoh said. "Prior to it, I hadn't experienced the level of research and investigation that I did."
We spoke with Agoh about her struggle to break into the journalism business, facing her fears on writing and opportunities that have advanced her career.
What are you currently working on?
For the past 6 years, I've been working in broadcasting. It's been an incredible journey because each of those years were filled with steady learning, growth and a broader view of what I wanted in my career. 
Current affairs have always been my niche but throughout the years I've done things I never thought I could do, like writing my first article, organizing and hosting town hall meetings, maximizing my skills in mobile journalism, to name a few. Currently I'm working on a multimedia project on the coronavirus pandemic in Nigeria, and I'm very excited because for the first time, I'll be collaborating with another journalist.  
What inspired you to be a journalist?
What truly inspired me to go into broadcast journalism was the desire to balance out citizen-government communication. I've always observed that to be a missing piece in the democracy that we claim to practice. When the people have no platform to speak, be heard and hold their leaders accountable, then it's simply an electocracy. 
I came into journalism with a goal to bridge the gap, tell stories and report the facts with an unbiased approach. 
What has been your biggest challenge?
I have a full time job here in Lagos, Nigeria and sometimes it's challenging pursuing stories I find interesting because I have to be in the studio. I've recently just found that collaborating with other journalists, especially freelancers is the best way to solve this. 
Another challenge I'd point out is the lack of funding and opportunities for journalists from developing countries. I believe journalists in Nigeria are very creative and highly driven. If we can have more training opportunities, funding and international platforms that expose us to world class practices and technology, we would be able to tell our stories better.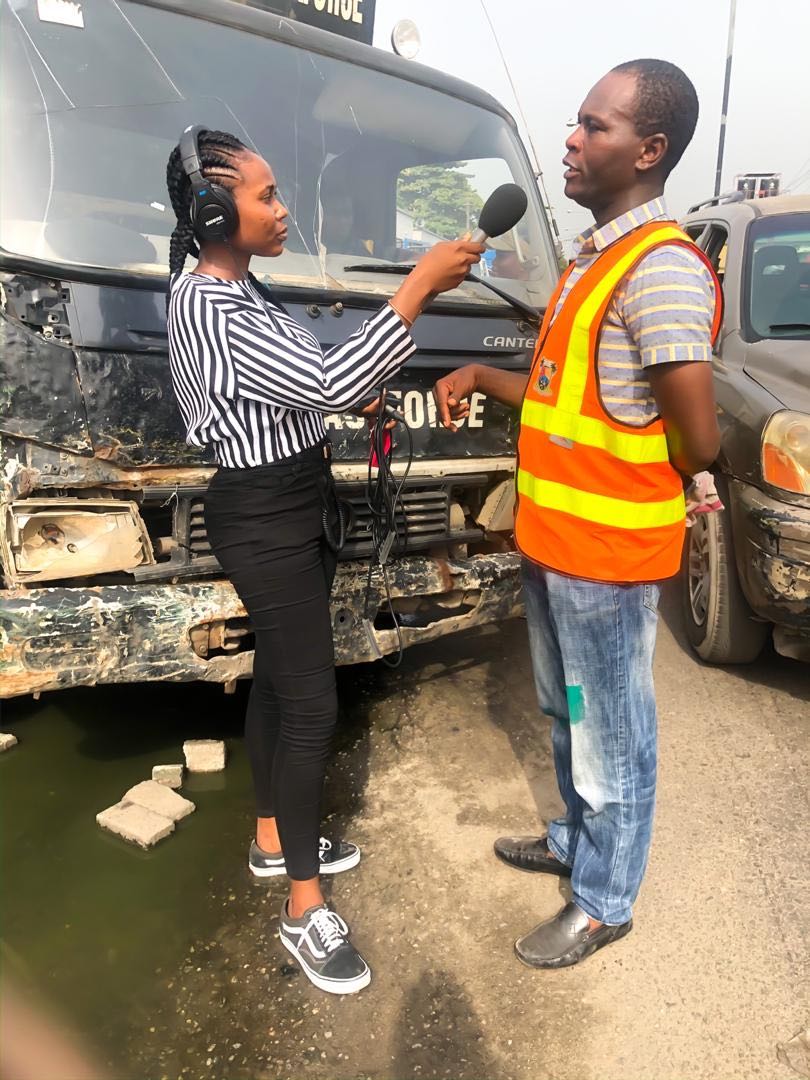 How have you used IJNet and what did you learn from that experience?
IJNet has single-handedly been the only way I find out about available journalism opportunities. Through it, I enrolled for my course in mobile journalism at the Knight Center for Journalism and became a fellow of the Wole Soyinka Center for Investigative Journalism, to name a couple. All of these opportunities birthed many interesting projects that I'm super proud of. These trainings have given me an opportunity to do something I've never done before, and with IJNet, it's always a new thing waiting to be born. 
What's your advice to young, emerging journalists? 
To be very bold in their quest for answers, to constantly embrace learning and to enjoy the journey — it's a rewarding one. 
---
All images courtesy of Michelle Agoh.
---