Brazilian journalist Evandro Almeida Jr. knew he tapped into something special when he started submitting his clips from just using his smartphone. 
"That gave me the biggest advantage," Almeida said. "I started covering sports for blogs and small websites, and I did all filming, writing and other content as a mobile journalist." 
Almeida is interested in a variety of topics, from politics to environmental issues, and he loves covering sports. He's reported on the paralympic games, retired players and other events. He works contract jobs in print journalism, public relations and broadcast, always freelancing on the side. 
During college, Almeida dedicated himself to research journalism, focusing on security and armed conflicts, and their effects on journalists. Last year, he presented his results in front of the Brazilian Association of Investigative Journalism (ABRAJI) conference. After spending  two months in Egypt after graduation, he returned to Brazil and began working on a six-month project sponsored by Google News Initiative for Rede Bandeirantes, a Brazilian television network,  to expand content on YouTube. He has been freelancing since.
In February, Almeida traveled to Mexico for a project, but hasn't been able to return to Brazil due to the pandemic. To stay busy he began a project with a friend on mobile journalism practices for university students in Latin America.
We spoke with Almeida about his aspirations in mobile journalism, experience as a freelancer, and advice on how to expand your network.  
What inspired you to be a journalist?
I was inspired by the practice of telling stories, living in the frontline of history, seeing things with my own eyes and telling people what really happened. I decided on journalism my last year of high school after traveling to Mexico — my first time outside of Brazil. When I went back to attend university in Brazil, I decided that journalism was what I wanted to do for the rest of my life. Not just telling stories, but making a positive impact with my job. 
What has been the biggest challenge in your career?
I believe two things:  Mobile Journalism and my faith. 
A lot of people here in Brazil didn't believe in mobile journalism — mojo — until about three years ago, maybe even a year ago. When I get on my phone to take a shot or pictures, other journalists still laugh about me because they have the big cameras and other equipment. There was an incident last year where I almost lost my patience with a few photographers who started to minimize my job and offend me. I had never experienced something like that in my career, but I was the youngest one and the only one with a smartphone. But now who is laughing? A lot of broadcast organizations, newspapers and radio stations are all using mobile journalism, and I've been using it since 2016. It has given me the chance to travel the world, and plenty of professional opportunities.
Another challenge is that I have lost opportunities because I am an Adventist, so I do not work on Saturdays. But I believe I need to work on where I want to be in my career, so even though I've lost a few opportunities, I have also gotten a few of the best. For example, I have interviewed three Hall of Famer athletes in different sports, covered the Olympic Games at age 19, interviewed ambassadors at age 20, presented a paper at the ABRAJI conference at age 21, worked on TV as a mobile reporter at age 22, and so much more.
It was difficult, but what I got out of it was better than I could imagine.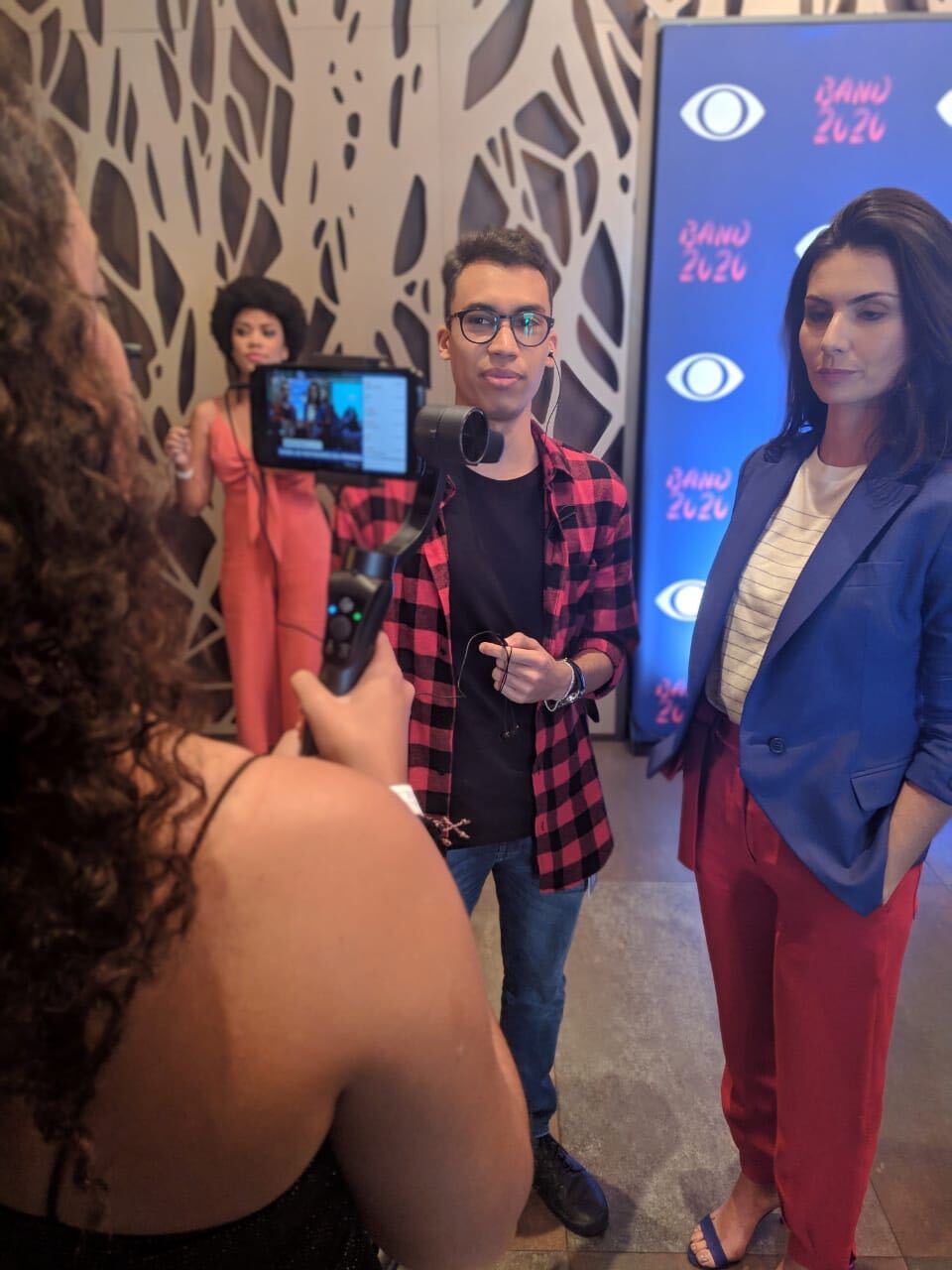 How have you used IJNet, and what have you learned from that experience?
I'm a better journalist because of IJNet. Since my time in college, I've read IJNet to learn new journalism practices, tools and advice, and to learn from experienced journalists around the world how to do better journalism. I can't imagine my career without the site. I have traveled because of opportunities I found on IJNet, such as the Agriculture in Brazil Abag Journalism Prize, a scholarship during my post-graduation on Insper and a trainee position in Galápagos Newsmaking.
What's your advice to emerging journalists?
I have three pieces of advice. First, believe in yourself, and remember to be yourself, because your beliefs and your culture are a part of you. 
Second, study and spend time studying. Not just at university, but through extracurriculars, too. Read books, magazines and newspapers that take different approaches and have different areas of focus — anything from agriculture to business. Attend seminars and forums, participate in study groups and specialized communities on the internet. Spending time and money to get knowledge will prepare you not just to get better opportunities, but to be a better journalist. 
And third, network. Every place you go, you'll make friends. I know a lot of people, and some of them might read this and laugh because at every seminar, extension course or congressional hearing, I know someone. My network has helped me with interviews, research, opportunities and jobs. A few of them have even become my good friends. Try to fill your network with people with values, not just by their positions now. And be open to getting to know people and, if you have an opportunity to, help them too. 
 
---