An online science magazine based in Qatar. A site that covers culture and the arts in Gaza. A storytelling platform for women in Saudi Arabia to share their stories, highlight their diversity and express their opinions. 
These are just three of this year's eight media startups the International Center for Journalists has selected for its sixth IJNet Arabic Mentoring Center for Media Startups in the Middle East and North Africa (MENA). The 10-month program pairs budding media entrepreneurs in the region with expert mentors, who train them in best practices and tools to develop their young media outlets.
"The way the program is structured, it takes the mentees on a journey of learning and sharing experiences between each other," said Ali Ghamloush, one of the program's two mentors.
Mentees begin their participation in the program by identifying goals for their respective media outlets. From there, mentors train them on how to incorporate business best practices to further their initiatives. The training includes one-on-one virtual consultations and an in-person mentoring session for each mentee. During these sessions, mentees learn how to manage and monetize their projects, strategically develop their content and bolster their communication and marketing efforts. 
"Because the training period lasts 10 months, it's an opportunity not only to design solutions and training, but to obtain results at the end of the training period," said the program's second mentor, Mohammad Fadhel Alobaidly.  
In November, mentees and mentors will travel to Amman, Jordan for a two-day workshop, and to attend the 12th annual Arab Reporters for Investigative Journalism Conference.
The following are this year's eight mentees and their respective media initiatives:
Sheikha Aldosary
Based in Saudi Arabia, Sheikha Aldosary launched Saudi Women's Stories in early 2019. Aldosary's outlet is a storytelling and educational platform for women in her country, and it aims to showcase their diversity, encourages them to express their opinions and documents the paths they've taken in their lives. She hopes that Saudi Women's Stories will empower women, and open a dialogue about women's role in Saudi society.
Mohamed Mekawi
Mohamed Mekawi is a Lebanese journalist and media professional who will be working to scale up his news site, Entrepreunews.com, which covers startups and entrepreneurial news and activities. Through the mentoring program Mekawi hopes to grow his site's following, including on social media, and develop a sustainable base of revenue. 
Naaman Omar
Palestinian photojournalist Naaman Omar will be developing his independent photojournalism site, APA Images, during this year's mentoring center. Omar founded his site, which covers news and events through photos, nearly a decade ago. Moving forward, he hopes to develop ways to better support the outlet financially, as well as ensure his staff's safety when they cover more sensitive issues in less secure areas.
Abdul Kareem Aouir
Qatar-based Abdul Kareem Aouir, a producer at Al Jazeera, has started his own online science magazine, Nok6a.net. Aouir relies on original and translated content for the site, and he hopes that his participation in the mentoring center will provide him with the skills and knowledge to decrease his reliance on translations, and start producing at least 70% original content. He also hopes to build upon his already significant social media following on Twitter and Instagram.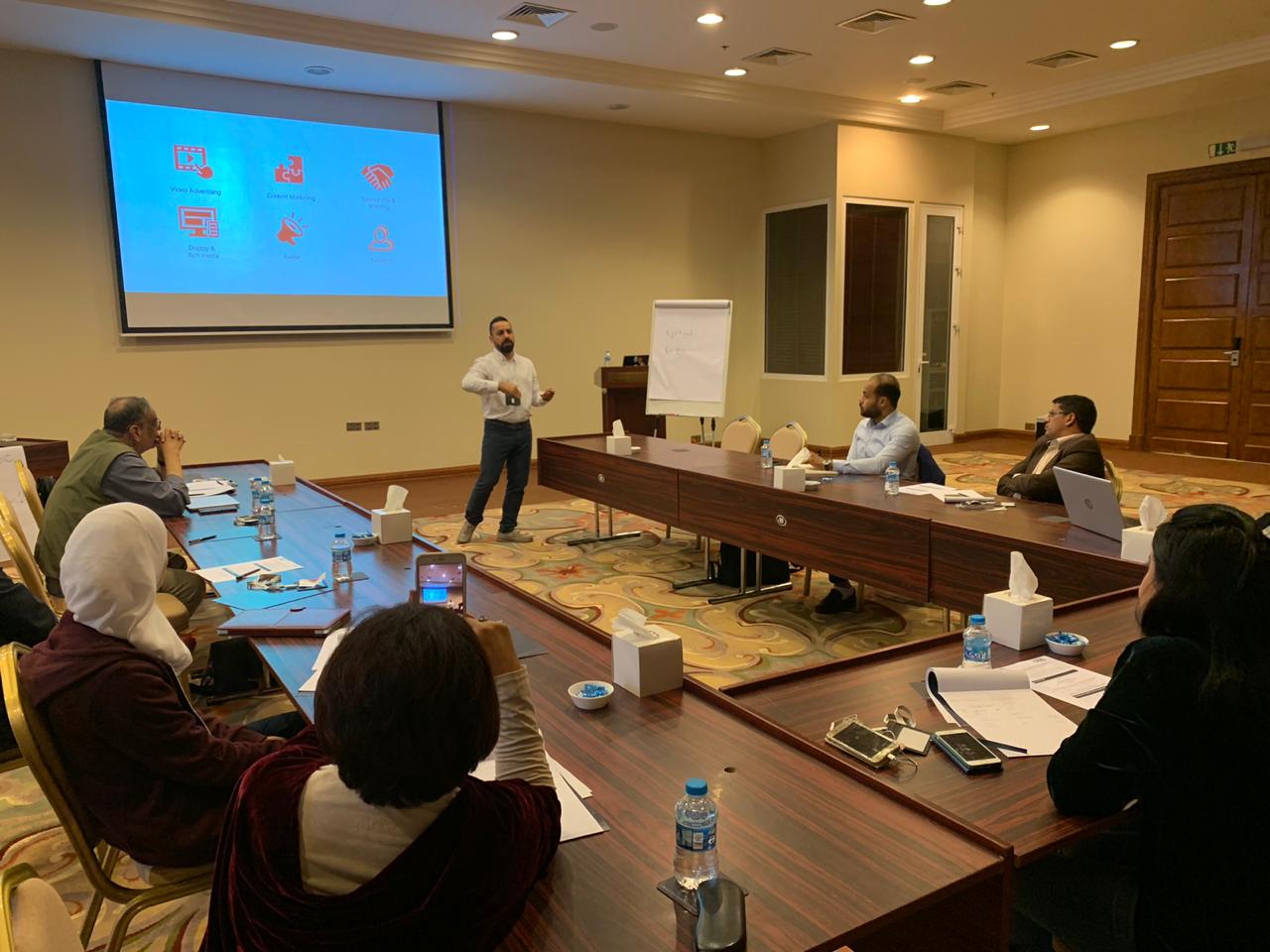 Farida Hamdi
Algerian journalist Farida Hamdi faces similar challenges to those other entrepreneurs enrolled in this year's mentoring center also face: how to sustainably fund her news initiative, Lakhbarat, which covers both national and international news. Hamdi also identified the absence of electronic media law in Algeria as a concern of hers moving forward. This contributes to uncertain futures for many news outlets in the country, she said — another challenge she plans to address with her mentor.
Eslam Abuelgasim Hamidan Ali
Eslam Abuelgasim Hamidan Ali is currently a blogger in Sudan, operating a site called Sudanese Mollified. She plans to build upon the online presence she already has to develop a platform dedicated to coverage of human rights, women's rights and freedom of speech in Sudan, while combating misinformation. To do so, Hamidan Ali will need to build up staff, she said, while also continuing to navigate funding constraints.
Nima Abuamra
Nima Abuamra's Madameen Media focuses on covering culture and the arts in Palestine, highlighting Palestinian and Arabic music in particular. Operating as a Facebook page today, Abuamra plans to expand her platform onto YouTube and Instagram, as well. She also hopes to begin highlighting social issues through her content, in addition to helping foster a network of artists, and connections to their target audiences.
Muhib Faroq Alwan
Muhib Faroq Alwan operates an independent humanitarian news site, Ansom, which is dedicated to covering gender in his home country of Yemen. A long-time journalist, Alwan envisions greater support for the inclusion of women in the site's reporting, ensuring a gender balance in coverage. 
---
Main image of mentor Mohammad Fadhel Alobaidly from the 2018 IJNet Mentoring Center program.
---