The Lekki Conservation Centre in Lagos, Nigeria, holds the last patch of the city's original flooded forest. The reserve, which represents the unique habitat between the lagoon and the sea, is squeezed in amid reclaimed land and urban settlements. If you look at a satellite image of the area, you see that most of the green space has given way to the grey of buildings and asphalt.
I had the opportunity to visit Lekki on a rainy day in July with a group of environmental journalists I was training. They used mobile apps like My Tracks, EveryTrail or standard GPS devices to geotag photos of the area and record their path through the forest. These files later helped them to see which areas they had visited and contextualize their stories with environmental information from maps or satellite images. See the track of our route from Central Lagos to the Lekki Conservation Centre.
The activity was part of the second training course of the "Flag it! Digital Tools for Environmental Reporting" project. In Lagos, eight journalists from Brazil, Germany, Nigeria, Philippines, Portugal and Romania, spent a week learning new ways of telling environmental stories by using innovative software to analyze and visualize data.
With financial support from the European Union, we launched Flag it! in São Paulo, Brazil in May with a training course for 12 reporters of seven nationalities. The course was designed by the Environmental News Lab (Ecolab) in partnership with the European Youth Press, a nonprofit organization based in Brussels. I recently helped create EcoLab as part of my ICFJ Knight International Journalism Fellowship.
No matter where they are from, environmental journalists speak the same language. Their work deals with subjects such as water, the climate and forests. They cover the regional manifestations of the same environmental problems, including pollution, wildfires and deforestation. As an environmental journalist myself, I always learn a lot from listening to other environmental journalists.
Sharing knowledge is an essential part of of the activities and projects we are doing at the EcoLab. The idea behind Flag it! is to train journalists who will be able to spread their knowledge in their home countries, at their newsrooms, and eventually become trainers themselves. The focus is also to promote exchange among environmental journalists from different countries, especially those from developing nations.
That's why we are partnering with journalism associations in different countries to bring this training to journalists around the world. The project has already formed partnerships with the Nigerian Association of Science Journalism, the Philippines Network of Environmental Journalists, the Association of Students of Journalism and Communication Studies in Romania and the Forum for European Journalism Students (FEJS) in Latvia. Learn more about the partners of the project here.
More training sessions are now being organized, and journalists in Africa, Asia, Europe and South America will soon be able to apply to attend. Our course materials will also be available soon online in the Geojournalism Handbook, a project supported by ICFJ and Internews' Earth Journalism Network.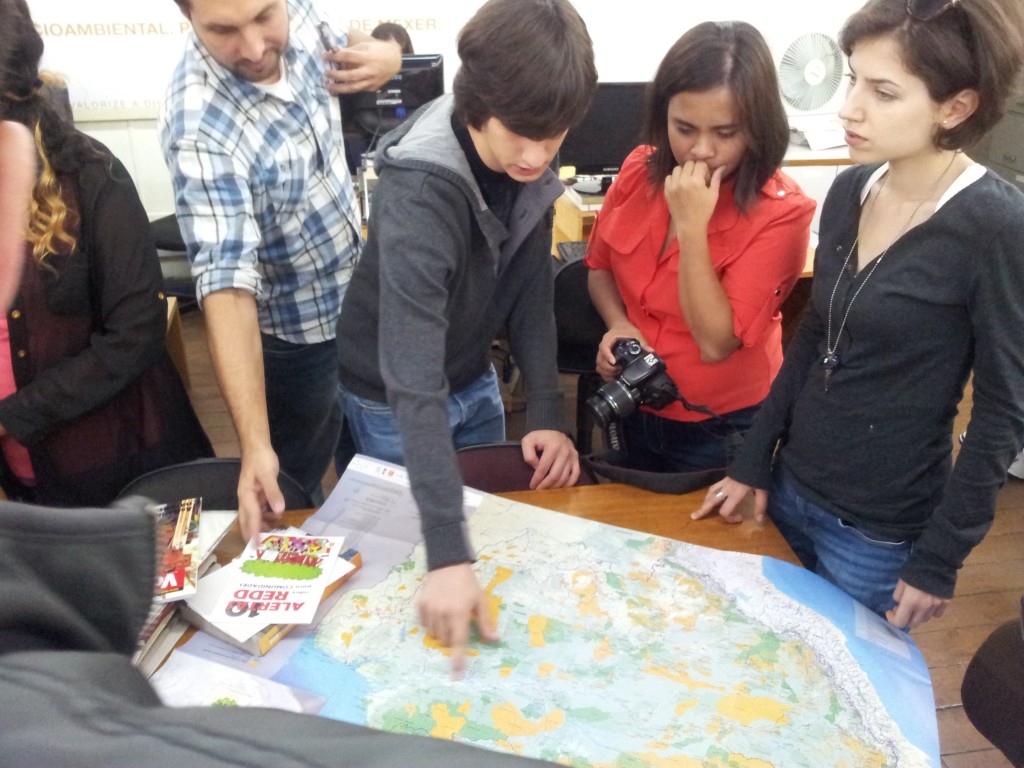 The knowledge we share in Flag it! training starts with an overview of sources of environmental information. For example, where can you find satellite imagery to create a map of forest fires? How can you get spreadsheets on deforestation, carbon emissions, ice sheet retreat, rain patterns, drought severity and many other indicators?
After learning how to find the data, journalists must learn how to clean, analyze and, of course, visualize them. That last part may be the most fun. In Flag it! training, journalists test easy ways of doing everything from making interactive charts to crafting multilayered maps. They practice using tools such as Open Refine (formerly Google Refine), Google Charts, Maps Engine, Fusion Tables, Carto DB, MapBox, Google Earth and Ushahidi.
Through these training sessions and exercises, we hope to expand the number of environmental data experts in the journalism community. We expect this network to grow, to create local branches and to take more advantage of the use of data and digital tools in environmental reporting.
If you're interested in training for your newsroom, or need materials or examples of how to create compelling environmental narratives, please contact us. You can contact the Ecolab team directly on our site or contact the team organizing the Flag it! trainings at European Youth Press.
Gustavo Faleiros is an environmental journalist and media trainer who specializes in data journalism. He is a Knight International Journalism Fellow based in Brazil. You can follow him on Twitter.
Image 1: During the training course in Lagos, Nigeria, a group of journalists visit the Lekki Conservation Centre and test apps that allow you to geotag pictures and record tracks. Photo by Felix Gaedtke
Image 2: The group meet at the Brazilian NGO Instituto Socioambiental to talk about maps of the Amazon region. Photo: Alessio Lupi