IJNet's parent organization, ICFJ, partnered with the Facebook Journalism Project on its U.S. Local News Accelerator, a digital storytelling program that provides coaching by news industry veterans. KARE 11 News was a participant of the program in 2020.
---
At the corner of 38th Street and Chicago Avenue in South Minneapolis — the intersection where a police officer killed George Floyd last summer — local residents put together a massive memorial in the weeks following his death. Mourners and protesters flocked to the area, which was blockaded and closed off from traffic. 
Amid the influx of people, dozens of volunteers began working to keep the peace at the memorial. They distributed water and snacks, supplies and other essential items, to families living in the neighborhood who were essentially cut off from public transportation, grocery stores and pharmacies.
Alexandra Simon, a senior digital producer at KARE 11 News in Minneapolis, met with the  volunteers, among them local activists Rob Steib and Rachel Nelson. "After meeting Rob and Rachel, I wanted to tell their story through their own words, giving a voice to the people who gave up their time, energy and even jobs to support and uplift others," said Simon.
Through their participation in an ICFJ-Facebook Journalism Project video accelerator last year, KARE 11 put Simon's plan into action. With editing and video mastering done by fellow digital producer Tyler Cashman, the station produced a four-part documentary series called "Tipping Point: Minnesota Voices of Change" that placed local voices front and center to tell the story of how George Floyd's death changed the community — and the world.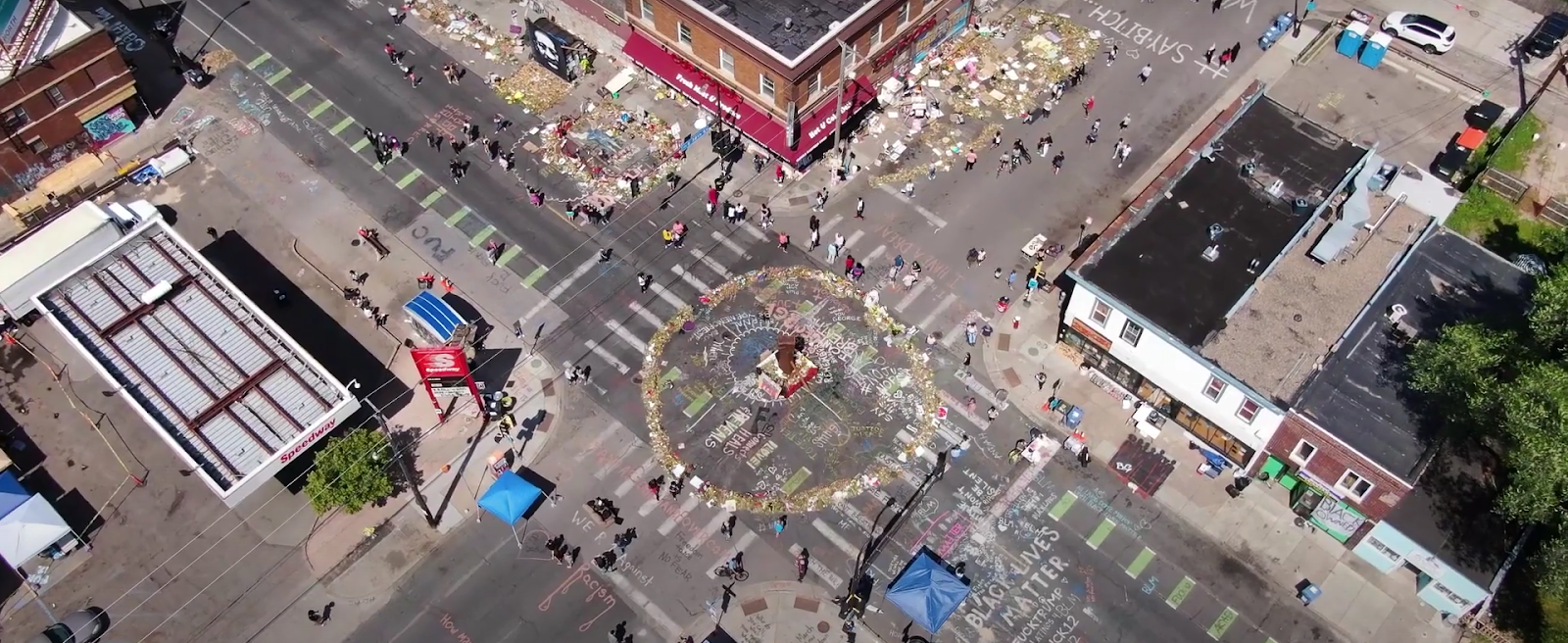 KARE 11 rolled out the series over the course of four weeks in the fall, publishing the five to 10 minute episodes on their website and YouTube channel. The series follows Nelson and Steib as they first volunteer together as part of Twin Cities Stand Together. Later in the summer, Nelson and some other volunteers branched off to create the Twin Cities Relief Initiative. 
"We decided on a multi-part documentary in order to free ourselves from standard time restraints, and to see how well longer-form content performed on KARE 11-owned platforms," said Simon. "It was also a great chance to experiment with storytelling, shooting and editing beyond what we're able to accomplish with a day turn project."
The experimentation paid off. On YouTube, the episodes have averaged about 1,500 views each, according to Simon. The series' first episode ranked as one of KARE 11's top 25 most viewed in the week it was released.
Having to navigate COVID-19 and related restrictions proved the most difficult challenge for the KARE 11 team. "It was important for us and our interview subjects to stay safe, but working from home and needing to keep a safe distance during shooting was a challenge," she said. "We also had to work around numerous travel and scheduling challenges, which were made easier with the help of freelance photographers and editors." 
The production team shot all interviews outside to ensure appropriate social distancing, Simon said. The only footage shot indoors was a tour around Gethsemane Episcopal Church — the church that Twin Cities Stand Together will use as its headquarters for outreach programs. Everyone distanced themselves and wore masks as this footage was being taken. 
"At most we had three people, whether it was myself, the KARE crew or our freelance crew, at each interview," said Simon. "It was extremely important that we kept as much distance between ourselves and our interview subjects as possible, so instead of using lavalier mics, we relied on wireless and boom mic setups."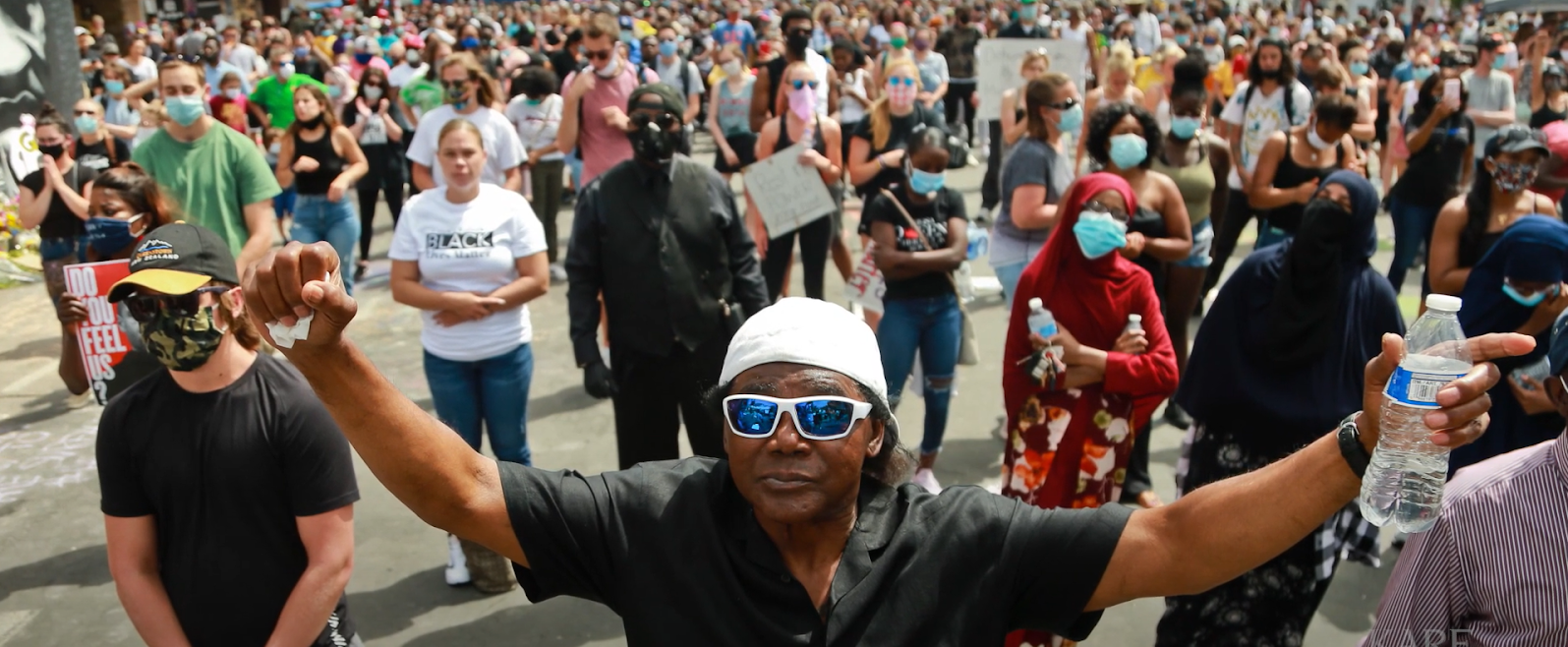 Simon and her team worked with documentary filmmaker Shira Pinson to produce the series. A mentor for five newsrooms across the U.S. under the Accelerator, Pinson underscored the KARE 11 team's creativity in navigating COVID-19 to document the local efforts around the year's other major story. "The world stopped, we were all indoors and everything we knew, all our priorities, the way we see the world, changed," she said. "And then, as soon as we started wrapping our heads around COVID, the killing of Mr. Floyd happened. And this, once again, changed everything."
The documentary-style videos stand out because they come straight from the heart and are a reaction to a pivotal moment in history, Pinson said. At the time, Minneapolis was the center of so much news coverage, and Floyd's death set off global calls for change. The team's unique position at the epicenter gave them access others didn't have.
"They went down, they met Rob and Rachel, and there was a genuine exchange, genuine curiosity, and a desire to understand what the community was going through after the killing — and to understand what drives these two to drop everything and dedicate themselves in such a way to the community," said Pinson. 
It was important to the team to make sure the people featured in the series felt their stories were told properly. Simon believes they were able to do that. "Rachel told me that people called her crying because the story made them so emotional," she said. "Another person told me via email that it was one of the best stories she'd seen on coverage of George Floyd's murder."
Although we may be past the height of the protests against racial injustice, the KARE 11 team plans to keep reporting the story. 
Said Simon: "I'm hopeful that as the anniversary of George Floyd's death gets closer, we'll have the chance to revisit each of the groups featured in Tipping Point to see how their missions have evolved and how months later they're still making positive change in the Twin Cities."
---
Kristi Eaton is a freelance journalist and Tulsa Artist Fellow based in Tulsa, Oklahoma, in the United States. Visit her website.
Main image CC-licensed by Unsplash via Priscilla Gyamfi.
---