The Data Journalism Awards 2019 records the largest number of areas/countries ever represented in the competition (and we've been running it since 2012!). Here is a map highlighting all the countries which took part this year, and the ten countries which sent the most entries:
Newcomers, compared to last year, include Tunisia, Iraq, Jordan, Mongolia, Bosnia and Herzegovina, Burkina Faso, Burundi, Israel, New Zealand, Puerto Rico, Senegal and Uruguay. Let's be honest, we don't speak enough of these countries in our industry. And that's what is great about the Data Journalism Awards: it makes us aware of the growing diversity in data-driven journalism.
So here is a chance for you to discover some cool data projects from these countries mentioned above (if you don't speak the language, I suggest you use the Google Translate browser extension to sort it out):
Want more? All of the entries submitted to the Data Journalism Awards can be found on our website's Projects page, featuring a search tool and details on how each project was made.
Big players kept on playing this year, small data teams kept on spreading
Now, let's do some name dropping. 267 organisations are represented in the submissions this year. Among them are large organisations, or usual suspects, often brought up as the "trendsetters" or "leaders of the industry" (all in all, they inspire many journalists worldwide), such as The New York Times (US), the BBC (UK), Der Spiegel (Germany), The Financial Times (UK), La Nación (Argentina), Bloomberg News (US), and ProPublica (US). And yes, they did deliver again this year by publishing projects like these ones:
But apart from that is something that really makes the value of this competition: the smaller players. Over one-third of the entries came from small organisations this year, and if you want names, here are a few of them: Indiaspend (India), Inkyfada (Tunisia), READr (Taiwan), WeDoData (France), Eltoque (Cuba), and iKon News (Mongolia). And if you want examples, here is some of their work:
Data journalism is growing fast… in Asia
Another great thing that happened this year is that, surprise surprise, the part of the world which submitted the highest number of entries is… Asia, followed by Europe and North America.
Out of all the 608 entries, 30 percent or 181 are from Asia, a 4 percent growth compared to 2018. Last year the top region was Europe. In 2017, only 20 percent of entries came from Asia.
Amongt the great data journalism teams from Asia you should know about are Malaysiakini (Malaysia), Caixin (China), South China Morning Post (Hong Kong), READr (Taiwan) and Apple Daily (Taiwan).
Here are some cool examples you should check out:
12 categories, one favorite: Data visualization of the year
Now here are a few lines for the data nerds, people interested in knowing which categories were the favorites, or simply those of you who've applied and wonder how many people you'll be facing in the battle for your favorite category.
We have 12 categories in the competition this year, and so did we for the past few years. They aim to celebrate investigations, individual portfolios, breaking news coverage, as well as great team work. You can find the full list on our website. But which one was the favorite among 2019 participants?
The numbers are in. "Data visualization of the year" was the most popular category this year. People in this category will see the stiffest competition as it counts no less than 126 entries (that's 1 in every 5 entries, same as last year).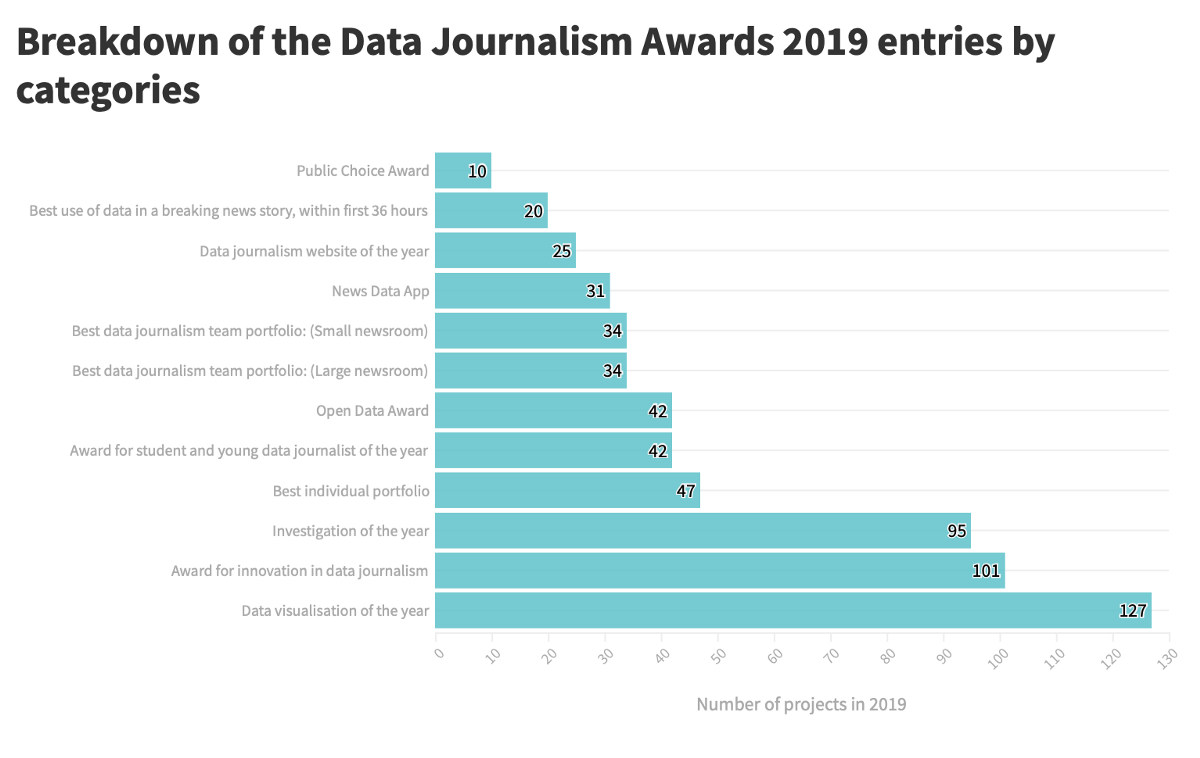 The category with the second highest number of entries is "Award for innovation in data journalism," which shows that many people have been experimenting with new technologies over the past year.
The category "Best individual portfolio" got 8 percent of entries (47 in total) and "Award for student and young data journalist of the year" got 7 percent (or 42 entries). That shows that data journalism is not only an established desk in newsrooms, it also manages to attract new talents.
Next stop: the shortlist!
Now what? Projects will be reviewed by our Data Journalism Awards pre-jury made of data journalism experts from around the world, and the Shortlist will be announced in May 2019.
The winners of the Data Journalism Awards 2019 will be announced during the ceremony and gala dinner held during the GEN Summit in Athens, Greece, on June 14, 2019.
This year's prize for our winners? An all-expenses-covered trip to Athens, Greece and the GEN Summit + Data Journalism Awards 2019 ceremony, taking place on June 13-15, 2019.
---
This article was originally published by the Global Editors' Network. It was republished on IJNet with permission.
Marianne Bouchart is and editor of the Data Journalism Awards and Data Journalism Blog.
Main image the logo for this year's Data Journalism Awards.