Over the last couple months, the world has turned its attention to protests spread across all regions of the U.S., inspired by the murder of George Floyd at the hands of Minneapolis police. Media in Kenya has also been awash with coverage, as audiences look to affiliate themselves with the African American plight.
The media in Kenya, however, has ignored a similar police brutality matter happening in their own country. In the course of the COVID-19 period, and ensuing nighttime curfew, police have killed at least 15 people. This is according to Independent Police Oversight Authority (IPOA),  the team that audits the performance of the Kenyan police. The majority of these killings have happened in low-income sections of Nairobi — the Kenyan capital. Even 31 more have sustained life-threatening injuries after being found outdoors during restricted times in May and June alone.
The media in the country have been following this, but the coverage does not last a week before the focus shifts to another story.
"We have seen journalists in the U.S. enrich their stories, speaking to diverse people, and giving them more coverage," said Shitemi Khamadi, a Kenyan journalist and media scholar, noting that the story is not well sustained. "[U.S. journalists] have risen higher than Kenyan journalists in giving the limelight to what affects their societies more."
Joseph Muraya, a crime, human rights, and investigative journalist with Kenya's Capital FM, agrees that media in the country are quick to move on from stories happening within their own borders. In 2016, he covered protests that followed the murder of Willie Kimani, a lawyer with the International Justice Mission who was representing a client in a complaint against a police officer. Kimani, his client and a taxi driver were killed by Kenyan police. Demonstrators used the slogan #IamWillie, but it was not sustained for long. 
Muraya has been covering the recent murders by police in Mathare, a sprawling slum where most of the curfew murders have happened. He notes that the media in Kenya has several lessons to learn from what is happening in the U.S. 
"Journalists in the U.S. provided the much-needed oxygen for the protests to thrive, and gave it enough prominence," he said. "I saw consistency, but I also well-equipped scribes going out there and doing their job, something that remains a challenge in Kenya."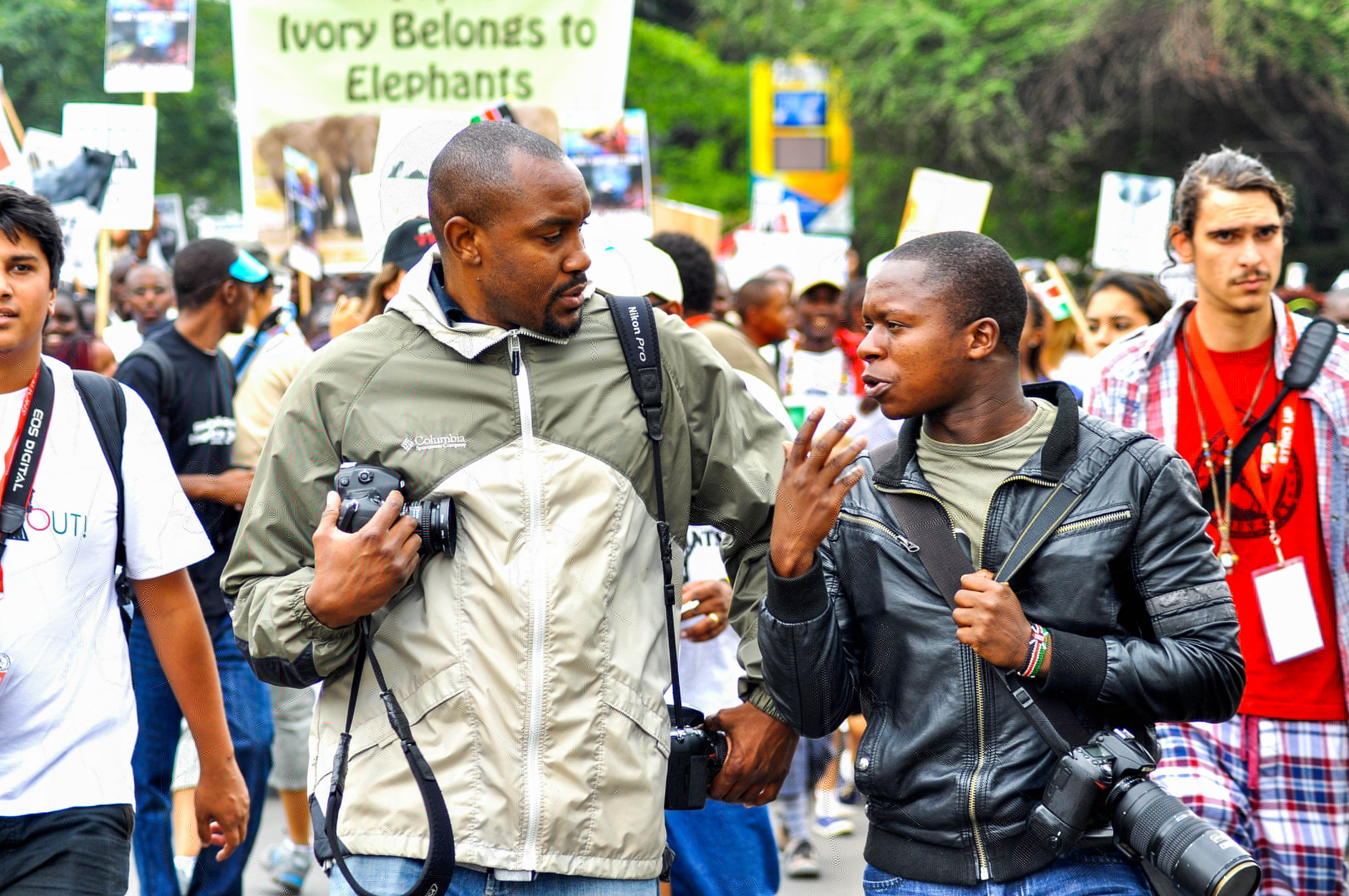 Many journalists covering protests and demonstrations in Kenya also fear for their own safety. While journalists in the U.S. have protective gear, journalists in Kenya fear that once they step out of the newsroom, they are on their own. There have even been cases where journalists have been attacked off a beat.
Muraya has always been afraid of an attack after covering protests and demonstrations. "While I have not received any outright threats, I have questioned, 'What if they come for me?''' he said. "Subconsciously I have found myself being more cautious about my surroundings."
Gerald Anderson has been a photojournalist in Kenya for the last 12 years. During this period, he has covered several protests, including recent police brutality protests in the Mathare slums. The Mathare protests came just after the George Floyd protests in the U.S., and Anderson found himself inspired by U.S. coverage to take a keener look at local protests in Kenya. 
"The protesters were having stops where their loved ones were killed, people were crying and kneeling down as they chanted songs," he said "For the first time, I saw old people being involved in a protest."
According to Anderson, the greatest lesson Kenyan journalists can learn from their U.S. counterparts is ways to sustain the story until a time when the public is well informed. "Here in Kenya, after a story is done for that day, we move on the next day as if nothing ever happened," he said.
This is the same notion shared by Khamadi. He feels that Kenyan journalists need to expand their resource pool and increase their networks. They can also contribute to information sharing platforms. Although they have made progress over the years, he noted that many local journalists cover such a wide range of stories, they often lack rich context on specific topics.
Khamadi admires the way journalists in the U.S. have taken a deep interest in the historical origins of some of the issues raised after the killing of George Floyd.
"They [US journalists] have historical background and knowledge on issues and are experts in their own right," he said. "Here in Kenya, we look for faster ways of retiring older journalists, overlooking their networks and experience." 
Khamadi also said that access to information can be risky in Kenya as authorities rarely give information freely, and they often intimidate journalists with arrests if they acquire that information from unofficial sources.
"There is a need for better access to information regimes here in Kenya where people can share reports and information willingly," he said. "Here, that information is considered top secret, and one is even afraid to write about it."
---
All images are courtesy of photojournalist Gerald Anderson.
Kimani Chege is a journalist based in Nairobi. He is specialized in science and technology, climate change, energy, health, business, and finance as well as agriculture, with his work appearing in different publications both in Kenya and abroad. Follow him on Twitter.