Over the years, Nigeria has been affected by various insecurity challenges — particularly the Boko Haram insurgency, ethnic violence, banditry and kidnappings perpetrated by various groups. Despite the devastating effects and threats on the country's economy, welfare, livelihoods and lives of citizens, far-reaching issues of insecurity and their impacts on certain communities have not garnered enough coverage in the media.
As IJNet reported last month, HumAngle is filling this void. Launched in March 2020, the Nigerian digital publication covers breaking news, special reports and expert analyses on emerging situations of conflict and insecurity in Lake Chad Basin, northeast Nigeria, and other zones in the country. It has bureaus and reporters across West, Central Africa and the Sahel.
HumAngle's co-founder and editor-in-chief, Ahmad Salkida, explained that they want to create strong narratives about the meaning of crisis and journalism in Africa. "There is a huge gap in our media. No publication is addressing insecurity with the seriousness it deserves," said Salkida, who is also a Nigerian investigative reporter with over 20 years of experience covering conflict, crisis and insurgency situations in West Africa.
"There is no digital and print space that is operating ahead of the terrorists, which leaves everyone else helpless. The gap is huge, and this gap has global resonance because insecurity in Africa affects the entire world."
HumAngle is the only media platform of its kind in Nigeria, and Africa as a whole, pioneering and challenging the way conflict and humanitarian crises are reported and talked about. The outlet has published first-hand, unique narratives on how conflict and insecurity affect the common man — despite operating in the pandemic, when readers' attention has been more focused on COVID-19.
"A lot of investments and time have gone into setting up a newsroom like HumAngle with its niche-based reporting, but a lockdown happens," said Anita Eboigbe, the managing editor at HumAngle. "But as we have come to revolutionize the media space, we were able to navigate the challenge to emerge. So far, we have been able to spotlight the real stories and perspectives of people affected by insecurity, away from the statistics. All with positive impacts made on these people and their communities."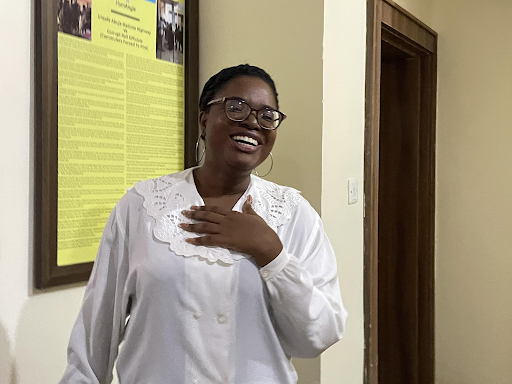 Deploying multimedia formats, human element themes and crisis signaling, HumAngle produces independent, credible and fact-based reporting on potential and existing cases of crisis to a wide audience across Africa. With a bottom-up reporting approach — and true to its name — it also tells stories of the suffering and resilience of vulnerable populations, internally displaced persons, and those living in conflict-torn and hard-to-reach communities, from the human angle. 
HumAngle has accomplished this through reporting series like its Vestiges of Violence podcast, The Crisis Room, Newsreel, The Deradicalised, and IDP Diaries— all focusing on news of crisis and tragic stories directly shaping the conditions people are living in across northeast Nigeria and the rest of the country.
Amid the pandemic's consequences for newsrooms, HumAngle received incessant threats attempting to intimidate them from continuing their reporting on conflict-sensitive issues. The media platform has nevertheless maintained its thematic focus with support from partners and funders.
Living by its slogan, "no boundaries, no limitations," HumAngle has even grown to incorporate a solutions journalism desk focused on telling stories about humanitarian crises like food insecurity, climate change and human rights — all of which are underreported in the region. In doing so, they have shaped narratives, helping readers better understand the consequences associated with insecurity.
For Imrana Alhaji Buba, a Nigerian conflict sensitivity expert and founder of Youth Coalition Against Terrorism (YOCAT), reporting on insecurity and terrorist activity holds great promise for audiences to understand their impacts. He believes there is an essential need for the emergence of a media outlet that will focus exclusively on coverage of conflict and insecurity in Nigeria, and Africa as a whole.
He agrees HumAngle is playing this role, becoming one of the most authoritative sources for news and analyses on the activities of terrorists and criminals in the country and region. "Many researchers and practitioners rely on the platform, as they can have access to many primary sources of news and reports in other languages like French, Arabic and Hausa," said Buba. "I also believe the news and reports can be useful in drawing inferences about motivations and strategies that terror groups rely on, stating that many researchers and analysts can use these news reports to analyze the groups, and also recommend appropriate policy responses to the human tragedies and tragic happenings in the region."
HumAngle plans to continue to push new frontiers in its storytelling and reporting for both its subjects and audiences, while focusing on developing its team of reporters who work to bring their stories to life. "We have a very amazing team. Everyday working with them has proved that. Over the next year, I want us to have a brilliant work culture where each team member grows their careers and thinks they are in a safe environment, even despite the nature of our journalism work," said Eboigbe.
"We also want to expand the way we relate with our audiences and make them see us as their trusted friends who are bringing the most reliable news and reports on insecurity, conflict and development. We want them to want to hear from us every second. Beyond the impacts we drive, we are focused on our audiences."
---
Photo by Nupo Deyon Daniel on Unsplash.
---