Citizens have different ways of getting to know political candidates, but the information available about them is often dispersed, unorganized and unclear. It's confusing for voters, and it makes it harder for them to make decisions.
The initiative "Yo Quiero Saber" (YQS) — "I want to know" in Spanish — aims to solve these problems by delivering information to Argentine citizens in a playful yet orderly manner ahead of the general elections this October.
A colorful interface welcomes visitors and invites them to answer a series of 17 questions on a variety of topics, including law, the economy and social issues.
Then the platform compares the user's answers with those given by the candidates. After seeing which candidates' views are more aligned with their own, citizens can make electoral decisions based on relevant and reliable information.
In the example below, the game prompts the user to decide whether abortion should be legal. If the user clicks "yes," it shows the politicians who agree (center image), and if the user clicks "no," it shows the politicians who disagree (right image).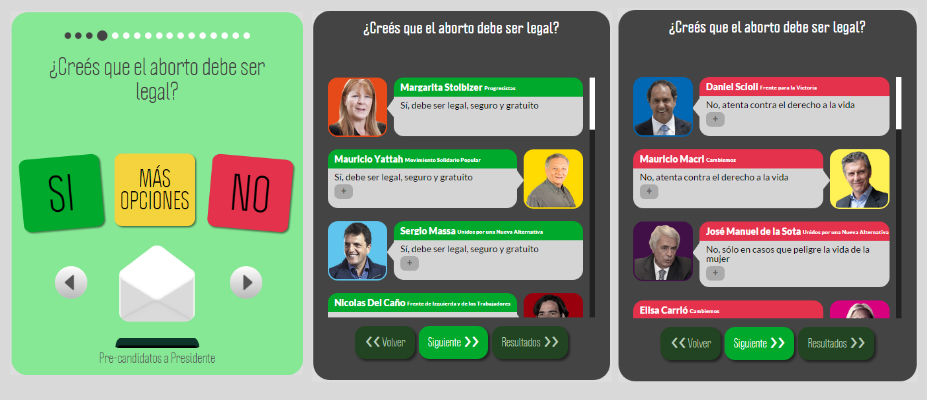 The launch of YQS coincided with the Argentine presidential primaries Aug. 9. In its first 11 days, it amassed 450,000 unique visitors and nearly 1 million page views.
The product is a result of comprehensive research done by a team of experts. The group of journalists, designers, political scientists and technologists spent three months gathering answers from politicians and comparing their responses to previous public statements, journalistic material and official documents. Convincing politicians to respond wasn't always easy though, said YQS coordinator Yas Garcia.
"Candidates of smaller parties were willing to participate," Garcia explained, but "more traditional and popular candidates were resistant to respond. The team did a great job of following up with each [candidate] to ensure that they responded to the questionnaire."
In addition to collecting responses from candidates, the research team developed alternatives to "yes" or "no" answers. While playing the game, users can click "more options" instead and select more in-depth positions.
YQS also worked with 18 media outlets throughout Argentina to embed the interactive game on news sites and reach more users.
News organizations or civic groups can also replicate YQS for local elections. The code is free on GitHub so you can customize the tool and help improve upon the project.
For additional support, YQS partnered with a diverse group of civil society organizations, such as Fundación Directorio Legislativo, ACIJ, Asociación Conciencia, Datos Concepción, We-Me, Open Knowledge Argentina, Acción Social Di Tella and Congreso Interactivo. Yo Quiero Saber is a HacksLabs grantee. HacksLabs is a project of ICFJ Knight Fellow Mariano Blejman.
A version of this post originally appeared in Spanish on the HacksLabs blog. It has been translated, edited and published with permission.
Main image courtesy Yo Quiero Saber