As Nigeria experiences a period of heightened emotion associated with an election scheduled for February, the spread of misinformation — especially on social media channels and closed messaging apps like WhatsApp — has become worrisome. Fighting misinformation while also inoculating audiences against fake news is a task that demands an innovative approach.
As an ICFJ TruthBuzz Fellow, I'm working with two media partners in Nigeria, Africa Check and Daily Trust, to spread fact-checking reports to wider audiences. Since many people respond to videos, I have been turning the media partners' reports into social media videos that are easily shareable.
Being a journalist without skills in mainstream video production, a colleague introduced me to Lumen5, a video editing tool that makes it easy for non-video professionals to create attractive social videos. Designed as a tool to help brands tell stories on social media, journalists who are keen on reaching wider audiences on digital platforms can also take advantage of the A.I.-powered platform. FOX, Forbes and The Economist are among the media organizations that are creating videos with Lumen5.
One advantage of Lumen5 is that articles can be turned into videos in minutes. Journalists begin by signing up on the website for free, then selecting a format that's suitable for the social media platform where the video will be published. Lumen5 renders videos in standard 16:9 landscape format, 1:1 square format or 9:16 vertical format. Users also have the option of choose a recommended theme that best captures the display of their text and visuals.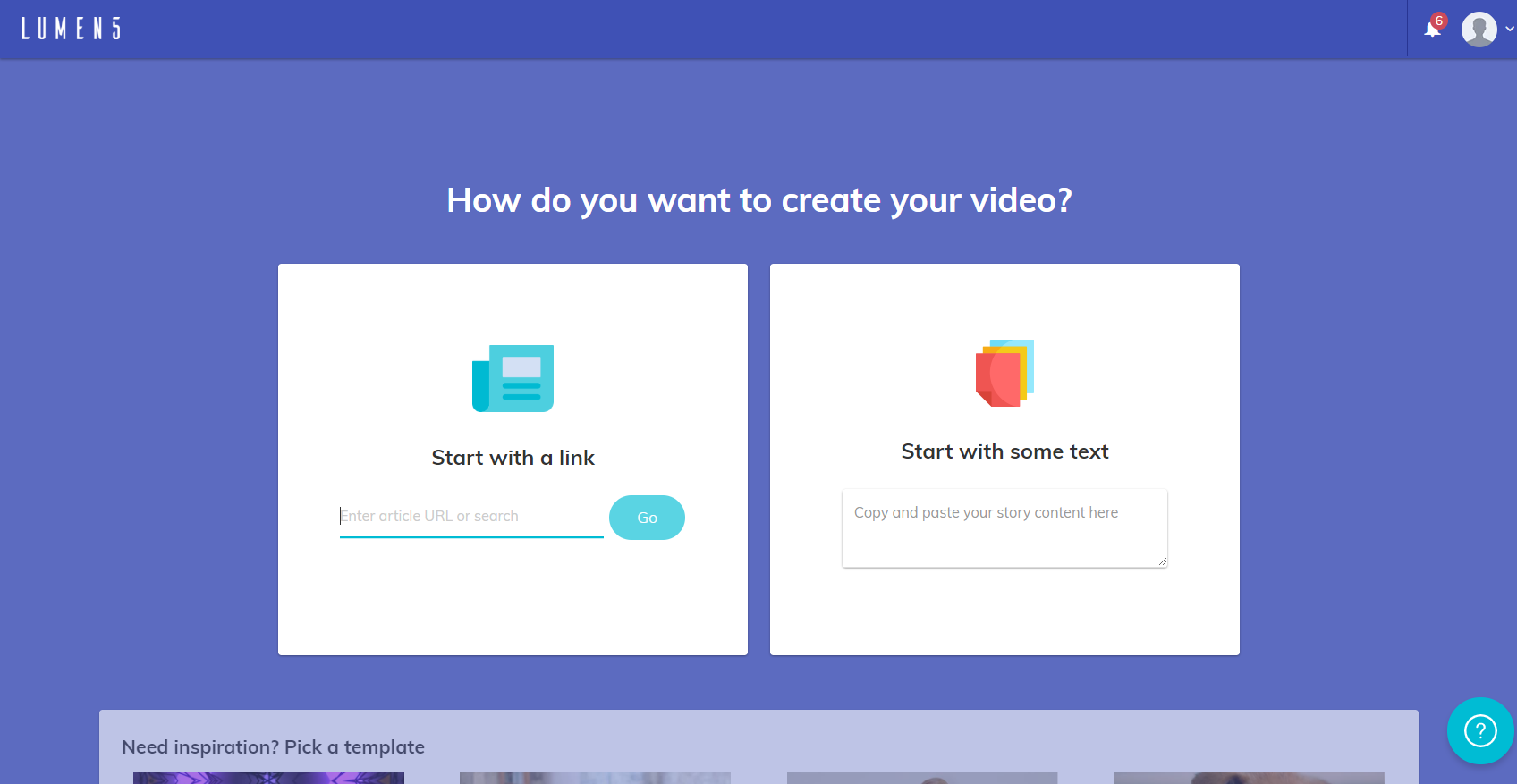 When a blog post or link is uploaded on the dashboard, the A.I. generates pictures in minutes, choosing from its library of photos. However, users can also edit the auto-generated images, choosing for themselves from a library of photos and short video frames, or simply uploading their own.
Another unique feature of Lumen5 is that the length of each scene is automatically determined based on the amount of text in each segment, making it easy to read for viewers. Users still have the option to adjust the length of time to their preference.
When it comes to positioning text, Lumen5's algorithm automatically places text on each scene based on the media file selected. However, like with other features, the platform allows users to re-write the text, play around with positioning and highlight the colors of the text to which they want to draw attention.
The minimum paid subscription is charged at US$49 monthly for a single user, with a discounted annual subscription. The main difference with the paid version is that users have access to higher video resolution — up to 720p — 5GB of cloud storage space and a monthly limit of 50 videos, as opposed to 10 in the free version.  
A business subscription plan is generally US$149 each month, and allows for a 1080p resolution, access to Getty library, custom themes and watermarks and the opportunity to upload custom soundtracks. This package is ideal for journalism organizations, but the free version is still useful for journalists and small organizations just beginning their foray into video.
Since the demographics of readers are changing, especially in many African countries where there is a growing youth population, media organizations risk losing young readers if information is not presented in an exciting format, which Lumen5 makes possible. This video that I created for Africa Check using the Lumen5 software has been viewed over 20 thousand times.  
Nigeria has 26 million active Facebook users, and about 25 million of them access the platform on their phones. Using creative video tools like Lumen5 for spreading fact-checking reports will lead to increased reach and engagement, especially among younger audiences.
---
Hannah Ojo is an ICFJ TruthBuzz Fellow in Nigeria. Learn more about her work here. 
Main image CC-licensed by Unsplash via Thomas Russell.
---