Most of the media innovation [the Media Briefing] covers is happening in English – it's a big market that's been more exposed to many of the global digital trends that have so disrupted media. But there are interesting new projects springing up everywhere so in a bid to spread our net a little wider, and take advantage of some temporary local knowledge, [they've] tapped the connections of visiting student Krystina Shveda to take a look at what's happening in Eastern Europe.
Most media projects in Eastern Europe may be far from sophisticated in comparison to those in the U.K. or U.S., but they're responding to similar global digital trends as well as the specific circumstances of their own markets.
The media landscape is changing rapidly in countries affected by civil unrest and major political changes, such as Ukraine, Georgia and Moldova. But improvement of the living standards and closer connections with the West in places like Romania, Slovakia or Serbia have also triggered innovation in journalism, especially last year.
As Bob Calo, journalism lecturer at UC Berkeley, said: "Developing nations have vibrant journalism. Growing middle class families need information."
With many niches in the media industry still unfilled, creative talent in Eastern Europe has a lot of space for experimentation.
Ukraine 
Ukrainian media has been changing rapidly throughout the country's recent period of turmoil, with independent news outlets helping drive the revolution which started in Kiev's Maidan Square. Journalists, whose hands had been tied by state control and propaganda, began to leverage technology to report live from hotspots and use investigative expertise to uncover domestic issues that had begun to gain attention.
Yanukovychleaks is an award-winning data journalism project. Numerous Ukrainian journalists and volunteers recovered documents
dumped in a lake by former president Viktor Yanukovych as he fled the country in February 2014. The papers have been analyzed and used for investigations.
Hromadske.tv, founded by journalists dismissed from their jobs at TV station TVi just before the protests which deposed Yanukovych gathered steam, instantly became famous by delivering independent live news from the center of the country's uprising. Journalists recorded raw video with their mobile phones and uploaded in real time. The online channel was quickly funded by citizens (almost unprecedented in Eastern Europe). Today, its regional departments operate across the country. Other similar independent outlets emerged in 2014, for example, SpilnoTV.
Texty.org.ua has been producing complex data visualisations since 2013. The topics range from parliamentary elections and war casualties to schools, agriculture and car crashes.
More longform journalism is being produced in the country. In-depth interviews and explainers are produced by NVua.net and the Insider, e.g. a piece about the main events of 2014 in Ukraine. A project called The Ukrainians highlights in-depth interviews with key cultural and civil leaders in the country.
Russia
Digital news service Meduza burst on to the Russian scene in October 2014. A mobile-first hybrid of a newspaper and aggregator with an interface built around cards and topics, it is based in Latvia to avoid censorship. Meduza was founded by the former editorial team of a major news service lenta.ru who had been forced out of it for "excessive" reporting on Ukraine.
More frivolous Russian media outlets that cover the country's exuberant metropolitan lifestyles stand out for experiments with technology, strong monetization strategies and sharp writing. Online magazines Afisha, Lookatme and Paperpaper have grown into successful businesses with smart segmentation and creative sponsored content.
Slon.ru and a new apparat.cc deliver in-depth coverage of current affairs and experiment with digital formats. Yet they remain exceptions among the country's largely state-controlled and censored media.
Slovakia
Slovak daily SME was experimenting with longform very successfully last year. It has published longform articles in its print edition, but plans to focus on digital in 2015 with an online edition filled with photos, graphs and text. It already has a successful paywall for premium content that has run since 2011. A data journalism team is currently being formed.
A new daily Dennik N has spun off from SME following a split caused by new investors. SME former editor-in-chief founded the new newspaper, which has set about experimenting. One of its first successful projects is a front-page live news section called "minute by minute."
MONO magazine is purely devoted to longform journalism, for which it won a local journalism award in 2014.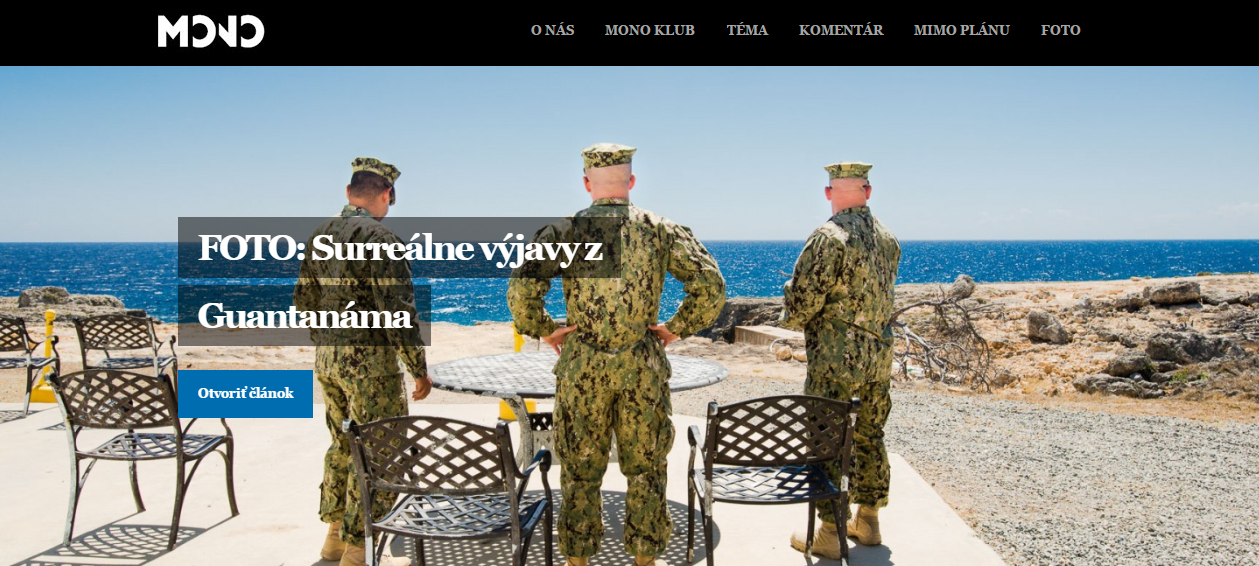 Czech Republic
Public broadcaster Czech TV has a new media department with almost 100 employees, including a social media team that uses an online-based app for optimization. During floods in 2014, the team verified user-generated content and reported via social media. Czech TV has also recently started a data journalism operation.
Czech National Radio is one of the most innovative media organizations in the country. For the whole of 2014 the radio has been explaining historical events on social media – as if they were happening real-time. The project engaged audiences and inspired the Slovak national broadcasting company to follow the example.
The radio broadcaster is also doing data journalism, employing one of the country's leading data journalism gurus who produces interactive visualizations with Tableau.
The Economia publishing group which includes large daily Hospodarske noviny– was one of the first Czech publications to introduce a paywall. The company also initiated an online DVTV run by two former Czech TV anchors who produce three to four videos daily.
Romania
A group of journalists in Romania, lead by the Organised Crime and Corruption Reporting Project's Paul Radu, has been doing investigative reporting for years, despite not being given much visibility in the national media.
Rise Project is perhaps the only investigative initiative in the country that uses technology and multimedia to their full potential (read about their work in English). This community of journalists, programmers and activists investigates organized crime and corruption affecting Romania and the region. Apart from reports, its website hosts an interactive tracker of invisible interests and connections between people and businesses in Romania. Every year the staff travel across journalism faculties in the country and hold seminars on investigative and data journalism.
Multimedia projects tend to appear during big events in Romania but vanish quickly, e.g. visualizations about the candidates during the elections in December 2014 or a fact-checking campaign Factual.ro.
Serbia
Serbian media – which has been influenced by political propaganda for years – is seeing the rise of satirical publications, seen as a response to the values imposed by highly biased media before 2010.
Publications such as an entertainment newspaper Njuz.net, inspired by the Onion in America, provide social, political and social criticism through the so-called "fake news" or "news in the mirror." Started as a Facebook group, it converted into a popular website that publishes satirical articles on real news stories. Even its name is sarcastic – Njuz is actually the English word "news" spelled in Serbian characters.
Tarzanija is another satirical blog, slightly reminiscent of Buzzfeed with emotional content that mocks habits and thought patterns of the Balkan people.
Belarus
Eastern Europe's "Silicon Valley," Belarus is a hub of technological experimentation but its journalism is still under strict censorship by the government. Some media organizations have found a way around that by working with data instead of opinions. A major online news channel TUT.by has a small data journalism team that produces graphics, mainly with Tableau.
A community of hackers and journalists is developing open data projects in the country – collecting datasets from official bodies and institutions, converting them into machine-readable formats and creating interactive visualisations.
Some digital lifestyle newspapers like Citydog, 34mag.net, and kyky.org use multimedia extensively to create attractive user experiences and engage young audiences.
Poland
Polish media's main focus today is defining best monetization strategies, though the majority continue to rely on advertising. Gazeta Wyborcza, the biggest national broadsheet, established a paywall but the number of paying readers remains low.
Grand Press Awards, the most prestigious media award in Poland, didn't have a digital category until 2013, however digital journalism is gaining weight.
Forsal.pl was the first publication to do data journalism on a daily basis. Biqdata.pl, launched in late 2014 by Gazeta Wyborcza, and Polityka Insight, started in 2013 by the publisher of a weekly opinion magazine Polityka, are both data-driven projects behind paywalls, showing a growing drive to produce more intelligent journalism people will pay for.
Moldova
A well-developed open data movement differentiates the Moldovan media market from others. Mediapoint is a newspaper that set up alerte.md, an app where citizens can report problems like broken lights or damaged roads.
Budgetstories.md is part of a global network of open data projects tracking government money. Being a combined effort of a think tank and a design agency, the website presents economic analysis of Moldovan budget spending in visual form.
Diez.md is a youth-oriented news site that uses social media intensely for sourcing and promoting stories.
Georgia
Jumpstart.ge is a data-driven media organization that has a broad output including the creation of its own visualization tools and websites, organizing events, running data-driven campaigns, collecting datasets and building educational materials. The website has an English version, allowing it to attract more international attention.
Georgian news is being visualized on feradi.info, Jumpstart's project. Data analysis and interactive games about social issues like gender inequality in Georgia can also be found there.
Reportiori.ge tried to encourage crowdsourced journalism in Georgia, but failed to take off.
Armenia
Civilnet.am leverages video and graphic design in its reporting. Set up by a human rights NGO, it has a twin media operation called Civilnet.tv that claims to deliver "a fresh new take on the country, the region and the world."
Hetq.am is a quality journalism website that conducts investigations on political, economic and social issues in the region.
Thank you to journalists who provided regional information for this article: Victoria Vlad (Moldova), Daniel Rzasa (Poland), Miroslav Čakširan (Serbia), Iulian Bîrzoi (Romania), Dávid Tvrdoň (Slovakia), Yaryna Mykhyalyshyn (Ukraine), Raman Melnyk (Ukraine), Kirill Artemenko (Russian), Dasha Matiavina (Belarus), Ani Hovhannissian (Armenia), Ana Kakalasvili (Georgia).
This post orginally appeared on Media Briefing and is published on IJNet with permission.
Main image CC-licensed by Flickr via duncan c. Secondary images screenshots of Yanukovych Leaks and MONO magazine.