Each month, IJNet features an international journalist who exemplifies the profession and has used the site to further his or her career. If you would like to be featured, click here.
In a country that has been a fixture in international news coverage, reporter and photojournalist Victoria Milko is one of the few Americans working in Myanmar full time.
Milko is a Washington, D.C. native and graduate of the University of Maryland. Her career began when an editor at The Washington Post Express realized she could both take photos and write articles. She contributed regularly to the publication, also publishing work for The Washington Post, NPR, the Associated Press and more.
Since then, she has traveled around the world covering stories about LGBT rights in Palestine and Israel, women's health in Bangladesh, migration routes in South America and more. She currently works as the multimedia editor at Frontier Myanmar, an independent weekly magazine based in Yangon.
"One day I'll be taking photos of refugee children on the border of Thailand, the next day I'll be doing a video looking at the impact of Cyclone Nargis years later in the Irrawaddy delta and another day I'll be sitting in a press conference with the United Nations," said Milko. "It really just varies day to day."
Milko helped kick-start Myanmar's first podcast, hosted by two local women who discuss human rights in Burmese and other ethnic minority languages. She's also reported in the Rakhine state, shortly before violence in the region led to a mass exodus of Rohingya refugees to Bangladesh, and about a food crisis in refugee camps on the Thai-Myanmar border.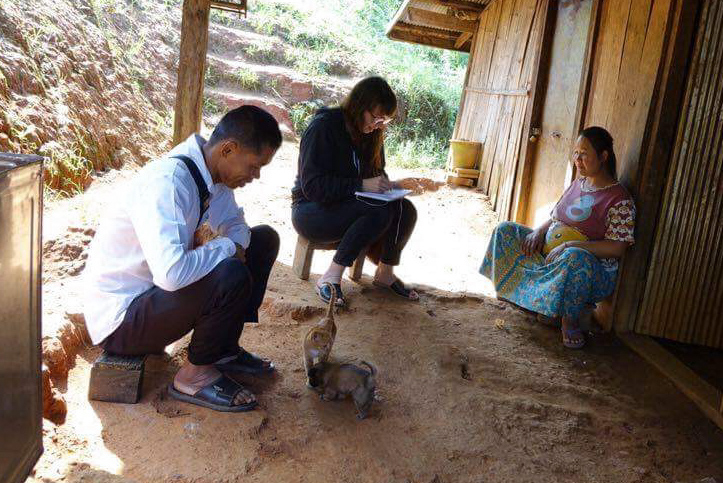 An avid IJNet reader, Milko credits her hostile environment training to IJNet's weekly bulletin. She attended the Dart Center at Columbia University's Reporting Safely in Crisis Zones Course.
"I think about the things that I learned there every single day while I'm in the field, and I don't think I would have learned about that program if it hadn't have been through the IJNet [newsletter]," she said.
IJNet spoke to Milko about her work, the status of reporters in Myanmar, safety concerns and her advice for emerging journalists.
IJNet: What are the greatest challenges you encounter working and reporting in Myanmar?
Milko: Myanmar has many challenges when it comes to reporting. There is a lack of access to information from the government; you can hardly get ahold of government officials [and] press is often denied from press conferences and town halls. You have to pick up a copy of the state newspaper to see what the government announcements are.
On top of that, Myanmar has many laws on the books, whether they be colonial era or established under [State Counsellor] Aung San Suu Kyi, that severely stifle freedom of expression and press freedom. 66D is the most famous. It's an anti-defamation law that has been decidedly kept on the books by this democratically elected government. If I simply say something criticizing the government, or saying that a certain company has done something, they can sue me for defamation of character. Unlawful association is another problem that plagues Myanmar. If I'm caught in the same room as someone who's deemed illegal by the government — whether it be an armed ethnic group or an "enemy of Myanmar" — I can be thrown in jail simply for being in the same room.
There's [also] huge parts of the country where foreigners are not allowed to go. If you're trying to get information you have to rely on just the government or the military, and no good journalist should do that.
What is it like being an American journalist working in Myanmar?
I always tell people that foreign women in Myanmar hold a really special third-gender role. We aren't expected to have the same characteristics of a local woman — such as being conservative, being in the home [or] not going into dangerous situations — but we don't have the threat or expectations of a man either. [In] so many instances I've gotten access to stories because I'm a foreigner and I'm a woman, whereas my local male colleagues have not been able to get access to the same stories. 
But I've [also] been followed and had my picture taken consistently by government intelligence units and special branch. Cybersecurity is becoming an increasing problem in Myanmar as we see the government and the military utilizing cyber tools against journalists. It's not easy, but I think that foreigners have it much easier than our local colleagues.
You credit IJNet with for helping you find hostile environment training. What are some specific lessons you learned?  
I think a lot about cybersecurity in Myanmar, [and] as a woman working independently in the field, physical security and safety. I'll never forget when I was at the training and I was pinned on the floor by an actor who was teaching us how to defend ourselves. [I learned] a special way that I can turn my legs and hips so that I can get more leverage to try and kick [an assailant] off me.
[I also found] a network of people. A lot of the instructors were women and attendees were women, so I found a group of women who, instead of telling me "don't go to this place," taught me how to be safe in those hostile places instead.
What sort of advice do you have for an emerging journalist, especially one who would also like to travel or report in challenging environments?
A lot of people email me, especially young people, saying that they want to be "war photographers" or "war journalists." I believe in always answering those emails, but the number one thing I always tell people is that it's not just about you. It's about your fixer, your driver and your parents. Is what you want to do going to cause an impact or is there someone who has done it already or does it more efficiently? A lot of people risk their lives to tell you their stories or to meet with you and I don't think your adventure is worth that. [Are] their stories are worth the risk? That's the most important part.
Make sure that you're doing it for the right reasons and understand the liability not just to yourself, but to loved ones and the ones you work with. If you believe in it, then do it.
Correction: An earlier version said Milko was a graduate of the Philip Merrill College of Journalism at the University of Maryland (UMD). She graduated from UMD with a degree in government and politics.
The first image shows Milko interviewing a Shan internally displaced person (IDP) in one of the Shan IDP camps along the Thai-Myanmar border. The second shows Milko interviewing a Shan refugee who lost his hands to a land mine during the conflict.
All images courtesy of Milko.