These days, you don't need more than a phone to produce excellent multimedia content. You can shoot video, record audio, edit and publish all from your small device. To make your stories professional and well put together, though, you're going to want to invest in some extra gear and accessories.
At the National Association of Black Journalists' (NABJ) 2019 conference, held in Miami, Florida last weekend, Allison Davis and Denise James led a session on just this — mobile journalism gear. 
An NABJ founder, Davis is a former producer at NBC news and the founder of Coopty Productions, a video production agency. You might recognize her from her behind-the-scenes role in this 1994 video clip from the Today Show, during which hosts Katie Couric, Bryant Gumbel and Elizabeth Vargas ask, "Allison, what is internet anyway?" 
James worked as a reporter at WPVI-TV in Philadelphia for many years, and she now works as a communications strategist and instructor at Temple University. Both women have been mentors for the NABJ student multimedia projects at the annual conferences. 
Most of the accessories on display at the session came from Davis' personal inventory, and she was happy to demonstrate for participants.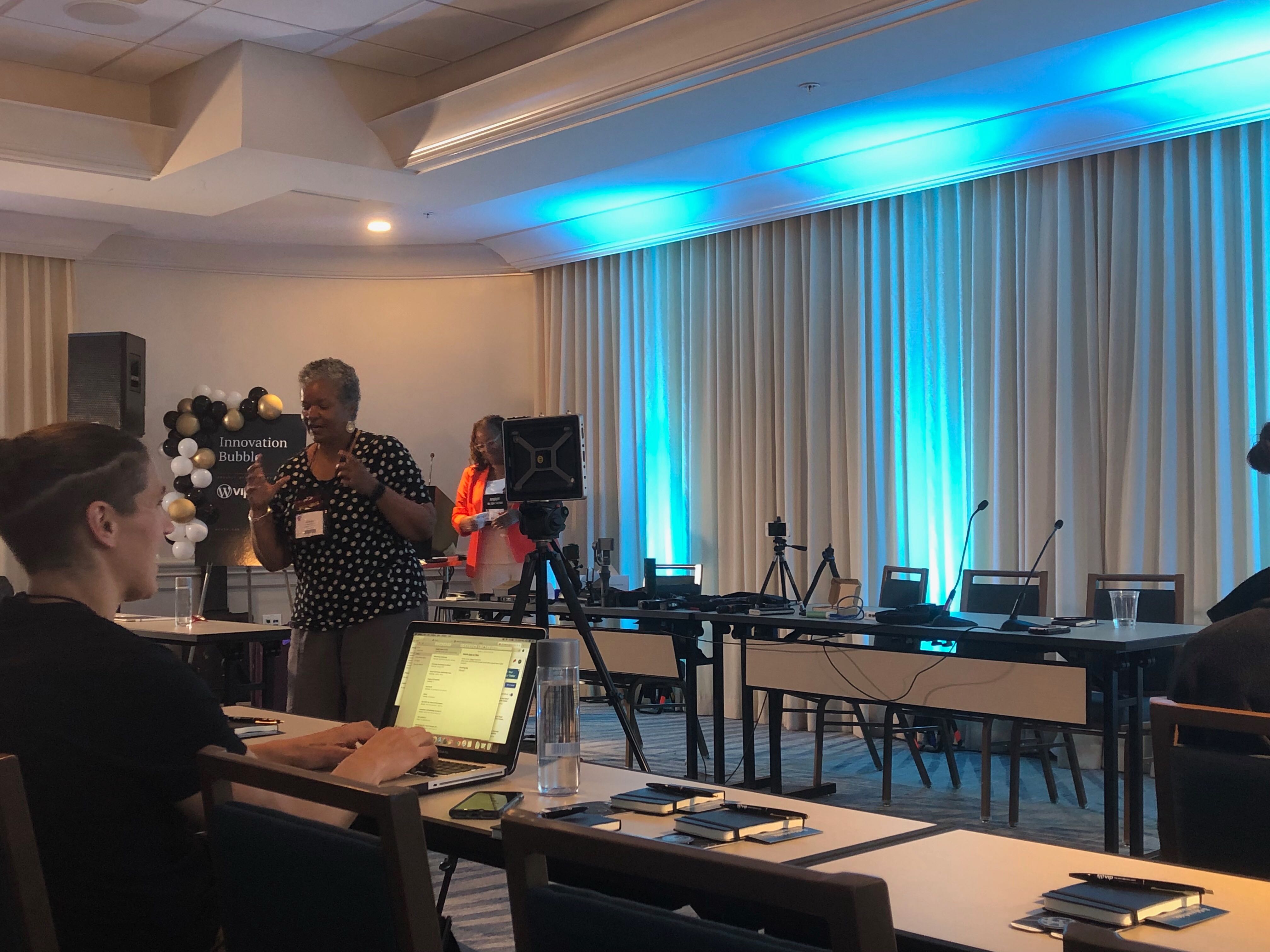 Are you looking for an easy, inexpensive teleprompter that you can take on the go? The Parrot Teleprompter from Padcaster transforms your iPhone into a teleprompter that allows you to read from a script while looking directly at the lens. It can be mounted onto your iPad, DSLR camera and more. It is available from Padcaster for US$139. 
If you're taking videos on your phone, you'll want to use a mic other than what's already built in to the phone's hardware. This is where Rode's wireless audio transmitter and receiver come in. Unlike its bulky, wireless predecessors, the Wireless GO is small, lightweight and easy to clip to your collar, backpack strap and more — without sacrificing quality. We found it on Amazon for US$219. 
Think you can hold your hand steady while shooting videos on your phone? I hate to be the one to tell you, but you can't. This 3-axis gimbal will help reduce shakiness, resulting in smooth footage. It is also lightweight, portable and has buttons for single-handed control. Available from DGI for US$119. 
This stabilized camera offers many of the same features as the DGI Osmo Mobile, but it doesn't require you to hook up your phone. Instead, the small camera operates completely independently, and still captures high-quality, smooth videos. And yes, you can fit it in your pocket. It's available from DGI for US$349. 
Are you interested in livestreaming? The Mevo makes it easy with live editing techniques that make your videos more dynamic — in real time. Small and portable, the Mevo connects directly with any live-streaming service, and can connect to many at once. It is available for US$424.99 from Mevo. 
Imagine this: You're traveling with a group and want to take a photo of everyone together, but your selfie stick won't reach. You take out your phone, pull out the drone camera built into the case, and take a wide-angle shot of everyone. The Selfly makes that possible. Though it's only designed for five minutes of flight, that's plenty of time to snap some aerial photos, selfies and more. The Selfly is still in its early stages, but you can follow the production through Indiegogo.
---
Main image CC-licensed by Unsplash via Joey Huang.
---