In the second half of this two-part series, Luba Kassova explores the determination and optimism of Ukraine's women journalists in the deadliest war for reporters. Based on interviews with Nataliya Gumenyuk: a Ukrainian journalist specializing in foreign affairs and conflict reporting who writes for the Guardian, The Washington Post, The New York Times and other international news publications and a founder of the Public Interest Journalism Lab; Angelina Kariakina: head of news at Suspilne Ukraine's public broadcasting company; and Iryna Slavinska: an executive producer and presenter for Radio Culture at Suspilne.
---
Despite the empowerment that comes with reporting the truth, however brutal, to the world, it is an effort of will for Ukraine's journalists to avoid a general sense of powerlessness in the face of their country's overall strategic picture.
The realization that, in the words of Gumenyuk, "whatever you do, you still can't really stop some of the horrible things that are happening" is hard to bear. Kariakina echoes similar sentiments: "On the one hand I feel that all of my decisions are life decisions that I have control over. But on the other hand, it's a paradox: I realize that I can't control anything if there is an air strike. No decisions actually matter."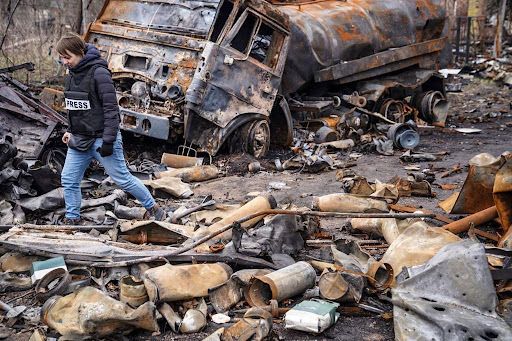 The power of purpose, compassion and routine
Nevertheless, for all three journalists it is their work that provides them with purpose and an anchor of stability, which is the  source of their profound resilience. Gumenyuk is in awe of the extraordinary compassion she witnesses in  people on the ground. It makes her even more determined to tell their tragic stories: "The most important part is the inspiration I get from ordinary people. They are in much worse situations than I am and yet are so humane. They have so much compassion, even for Russian soldiers. So that gives me mental balance. But for that you need to be on the ground, not in front of your computer. No Facebook story would ever inspire you like a real  person on the ground. This is what helps me the most."
"My main coping strategy is my work. I know a lot of my colleagues are coping the same way," explains Slavinska, describing her radio presenting work. "People listen to us even during the air raids, so you need to get the right tone of voice – not too light-hearted, not too dramatic. I focus on sounding calm." Routine is very important to her too: being in the newsroom and the studio, speaking to her colleagues, drinking coffee – and other little things help with mental health.
The Role of optimism 
Traveling with foreign war correspondents, Gumenyuk was surprised to find that she and her Ukrainian colleagues were distinctly more optimistic about the outcome of the war than her foreign colleagues. "When we talk to foreigners, the Ukrainians would be the only optimist in the group," she said. It dawned on her that being optimistic was the Ukrainians' lifeline: "Entertaining that things would end badly is just deciding you should give up now."
Gumenyuk and her colleagues are sustained by seeing victory where others see defeat. Amid the ruins of Kharkiv, all she felt was determination to rebuild it: "We thought… 'we will rebuild it and it will be even better' They won't stop us!"
Amorphous hopes for the future
Commitment overflows from Kariakina and Gumenyuk, born from the realization that rebuilding Ukraine after the war will entail an enormous amount of work. This realization ties together the hopes of both journalists. They are resolved to rebuild their country post-war, hoping that this will happen sooner rather than later. 
"We haven't understood yet the scale of what has happened", said Gumenyuk. "I am concerned that people will be angry. Every war is toxic, it destroys societies. It will take a lot of effort to fix the damage."
Kariakina is not making plans for the future, but she is certain that she wants to stay in Ukraine and rebuild the country after the war. "I feel like my life is being fast-forwarded, with everything that is happening. I feel that when the war is over I won't be in my thirties anymore but in my fifties or sixties," she said. 
"I don't know exactly what direction my life will take then, but I know for sure that I want to stay in this country. I want to rebuild it and be with my family here. I just hope not to lose my passion for life before then."
---
Photo by Gayatri Malhotra on Unsplash.
---