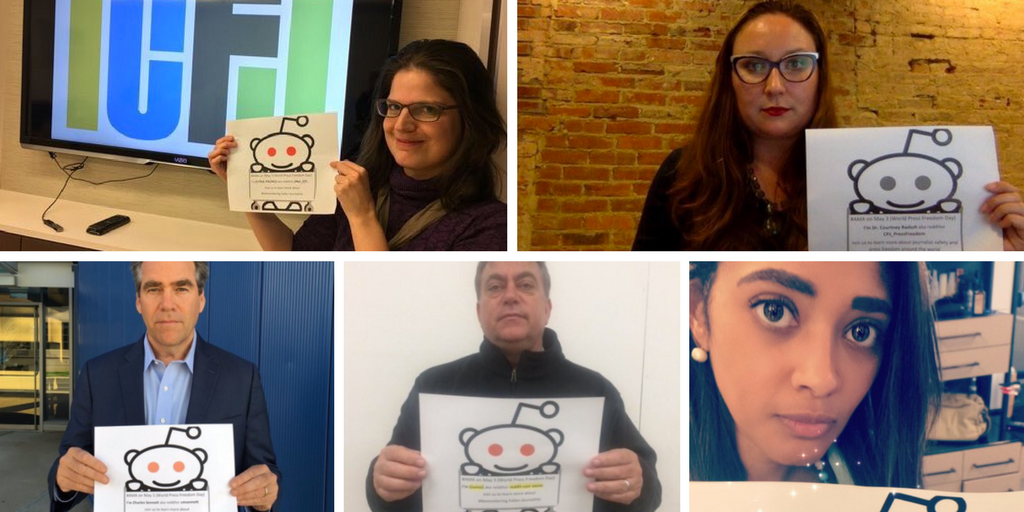 Among the events commemorating World Press Freedom Day on May 3 is an online campaign, "Remembering Fallen Journalists." Organized by U.S. journalist Sarah Jones, the campaign aims to call attention to media workers who have died as a result of their reporting. As part of the event, Jones is hosting an "Ask me anything" (AMA) chat about journalism safety on Reddit, featuring GroundTruth Founder Charles Sennott, journalism security trainer and expert Frank Smyth, the Committee to Protect Journalists' Advocacy Director Courtney C. Radsch and IJNet Manager Elyssa Pachico. At 4 p.m. EDT on May 3, the group will answer audience questions about journalism safety issues.
IJNet talked to Jones — who has previously worked at CNN and Al Jazeera America — by email about why she organized the "Remembering Fallen Journalists" campaign and how people can show their appreciation for media workers on World Press Freedom Day:
IJNet: What prompted you to start the "Remembering Fallen Journalists" social media initiative? Do you personally know journalists who have been endangered or threatened while doing their work?
Jones: Between 2010 and 2013, many journalists and photojournalists whose work I was following were killed. One such death prompted me to take action. As global citizens, I believed that we need to unite — regardless of politics or borders. I wanted to create a moment of silence, reflection and gratitude where people can come together to remember the fallen journalists — including the media workers who died bearing witness.
What are some other ways in which people can show solidarity with this issue?
They can wear a black ribbon on May 3 to remember the journalists who died defending the values of journalism. They can also host local events or attend the ones near them to observe a "moment of silence." Last year we observed a "moment of silence" in 10 countries, including the U.S. People can also show support by posting a selfie, or changing their profile picture to the black ribbon. They can join our Facebook group, like our Facebook page, sign up for our email newsletter and our Tumblr blog to stay updated with the latest developments on this issue.
Can you talk about your partners in the "Remembering Fallen Journalists" initiative and what role they play?
The UN Foundation's "Plus Social Good" was first to support our cause. CPJ helped me connect to reliable sources for information on journalists killed while bearing witness. Reddit's AMA has proved to be a priceless platform for global journalists and citizens to address their questions on journalism safety. The International Association of Press Clubs (IAPC), through its network in over 40 countries, is organizing the "moment of silence" and ribbon distribution. The National Press Club has also helped organize events and spread the word through commemorative ribbons, newsletters and posts. In the past, MuckRack hosted a Twitter chat to spread awareness about the event. During the event last year, the Newseum in Washington, D.C. collaborated with us and handed out ribbons to visitors and encouraged people to learn more and honor the lives of those who have died.
You have been organizing the event for three years now. What have been some of the most important lessons you've learned about organizing online events, and getting people to participate?
Partnerships are important. One has to be organized to reach out to partners — send emails, tweet about the event and plan social media content. MailChimp, a bulk emailing platform, has been my lifesaver!
Are there any other specific resources you recommend for journalists who may be facing either legal or physical threats?
Preparation starts with awareness. Rosie Garthwaite's book "How to avoid being killed in a war zone" and CPJ's guidebooks — "Safety guidelines for specific protests," "Journalist security guide," "Global safety principles and practices" — are excellent resources. Freelance journalists are more vulnerable to attacks on their lives. They should definitely read the Journalists' Safety Guide from SafeGuard Armour and the freelance journalist safety principles by the ACOS Alliance. 
Besides guidebooks, a nonprofit — Reporters Instructed in Saving Colleagues (RISC) — offers training for freelance journalists going to conflict zones. Considering the world we live in, I think everyone should have Hostile Environment and First Aid (HEFAT) training. Post-traumatic mental health issues are not always discussed. Sometimes the wounds or threats aren't always visible. The Dart Center for Journalism and Trauma does an amazing job discussing the mental health issues of journalists who have served in very difficult situations.
To read the Reddit AMA, click here.
This interview has been edited and condensed for clarity.
Pictured (clockwise from left): Elyssa Pachico, Courtney Radsch, Charles Sennott, Frank Smyth and Sarah Jones.